Tuesday,
July
3rd
2012
- 06:04 UTC
Casa Rosada turns into a "dolls' house" with "Cristinita" the witch leading
Argentine president Cristina Fernández presented on Monday evening a doll made to her image, "Cristinita" which is on sale at a museum next to Government House, Casa Rosada, in downtown Buenos Aires.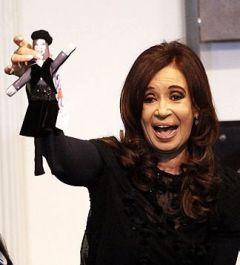 "She's only missing the broom" said Carlos Zanini, the Legal and Technical Secretary from the Argentine Executive on seeing the stuffed doll dressed in black, who jokingly said she was disappointed because Zanini had called her "witch".
At an official ceremony in Government House the Argentine president said that there are also versions to the image of former president Nestor Kirchner, of Mercosur leaders Jose Mujica from Uruguay, Dilma Rousseff from Brazil, Hugo Chavez from Venezuela and the icons of Argentine political history Eva and Juan Domingo Peron.
Cristina Kirchner said the thirty centimetres tall dolls are on sale at a gift shop in the Bicentenary Museum, next to Casa Rosada at a cost of 65 Pesos (approx 14 dollars).
"I love that one of Him with wings, it's a dream" said the president holding a doll to the image of her deceased husband and former president. Nestor Kirchner died October 2010.
The motive of the ceremony was to hand out the first DNI identity cards issued to members of the transsexual and transvestite communities, which were made possible thanks to the Gender Identity Law recently passed in the Argentine Congress.
During the 'reparation' ceremony, Cristina Fernández also signed a decree stating that all babies born before the law was passed were now legally allowed to carry the last names from both their same-sex parents.
"Whoever opposed this initiative has not caught up with the times," she said, and apologized to the audience, mainly composed of members of the transgender community, "for taking so long to do this."
She also assured that when it comes to gender identity rights, Argentina "is paving the way not only in the region but also in the world."
"I'm very proud of being at the forefront of this movement," she added.
Also present during the ceremony were Vice-President Amado Boudou, Cabinet Chief Juan Manuel Abal Medina and Interior and Transportation Minister Florencio Randazzo, among others.