Wednesday,
August
15th
2012
- 09:37 UTC
Cristina Fernandez calls workers and companies to be "more rational"
Argentine President Cristina Fernández said on Tuesday that there has always been "clashes and discussions" between companies and their workers but called on both parties to be "rational enough since they need each other in order to avoid collapsing, something we all experienced during the 2002 crisis."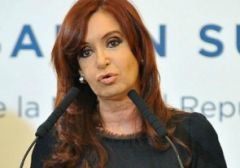 During simultaneous video conferences held from the Government House, the President hosted the inauguration of four new industrial projects including two shoes factory, a new line of John Deere tractors and harvesters assembled in Argentina, and a technological plant.
"We are working for more jobs, investment, industry, added value, and science, technology that is the path to follow so the country can continue to advance and does not get stalled. We have to drill this into the heads of our youth so that they will never again say that an Argentine made chair is the worst in the world and go after an imported one", underlined the president.
Drill into their heads does not mean "indoctrination, rather teaching Argentines. For years they have been working surgically to avoid Argentines from learning to think, to have and to hold a job. What really matters is committed people to their country and convinced that building a future for them is building a future for all Argentines".
The president argued that a country that helps people to have jobs and dignity contributes to happiness, "which at the end of the day is the objective of any government".
Cristina Fernandez then proceeded to the inauguration of the new tractor plant, by video conference, (she was unable to travel to Santa Fe because of the intense rain and hail) and let out a long list of numbers and stats.
In the farming equipment manufacturing there has been very important growth, said Cristina Fernandez adding that in 2003, 84% of all harvesters were imported and only 16% domestic production, in 2012, 31% is Argentine production and 69% imported, while half the tractors sold annually are Argentine assembled or manufactured.