Friday,
August
24th
2012
- 06:14 UTC
YPF announces massive exploration program and calls on private investors
Argentina's nationalized oil and gas corporation YPF announced it has plans to drill 250 wells in the next five years to further advance the country's "hydrocarbons frontier". During a presentation at a posh hotel in Buenos Aires under the heading of "Argentine Exploration Plan", YPF CEO Miguel Galuccio called on investors to trust him and support the plan.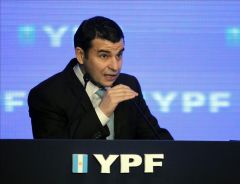 "This is a historic day, Argentina's energy future for the next 20 years is now being defined; we have a long and short term consistent exploratory plan underway" said Galuccio, adding that YPF is back exploring like in the old days, "with a record level of drilling activity, high risk exploration and increasing the challenge".
During his speech, Galuccio urged the businessmen who attended the meeting to believe in him as the company's leader "as I'm always going to defend your investments. Believe me gentlemen that we can grow and make money together".
In terms of energy plans Galuccio recognized that "Argentina's hydrocarbons production has been decreasing by 6% yearly for the past years", and added, "That's why the share holders' interests must be aligned with those of the State".
Furthermore, Galuccio welcomed "any potential new partners willing to work in our country", and emphasized, "We need both strategic and logistics partners capable of providing the necessary equipment, plus financial partners."
Galuccio said the new plan is focused on the "revision of the exploratory potential of the Argentine wells, the further examination of gas and oil basins and a prospective map of exploration at the provinces".
He then went on to give a description of that potential and YPF' plans.
"With the exception of Cordoba (central Argentina) all other basins have opportunities and potential, and we will explore for oil in Chaco, for deep gas in Salta, Formosa, Jujuy and Tucuman; gas and oil in San Juan and La Rioja and gas and coal in the province of Buenos Aires".
"In Buenos Aires YPF will contract 700 kilometres of 2D seismic surveying and drill an assessment well" said Galuccio who added that exploration in the traditionally oil provinces such as Santa Cruz and Chubut will be significantly increased.
Federal Planning minister Julio De Vido also present at the conference said the purpose of the plan was to ensure oil and gas production and energy self sufficiency and later return to exports.
De Vido strongly defended the seizing of YPF from Repsol because the Spanish company was 'manicuring' the books while it was emptying the company of its assets. Last May the Argentine government took over 51% of YPF shares from Repsol which retains a 12% stake in the now nationalized company.