Monday,
September
24th
2012
- 03:01 UTC
Mercosur dispute reaches UN: Paraguay informs political events to Ban Ki-moon
Paraguayan president Federico Franco explained to UN Secretary General Ban Ki-moon the current political situation of the country which emerged from the impeachment by the Senate of Fernando Lugo and his removal from the Executive office by an overwhelming majority, decision the ousted leader had accepted.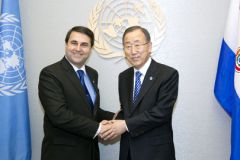 President Franco, on his first overseas trip and attendance to the US General Assembly, gave some details of the talks he held with Ban Ki-moon Sunday afternoon during a press conference.
"The Secretary General was well aware of events in Paraguay. He asked about the killings at Curuguaty which triggered the impeachment, and we gave him an extensive report on the Senate debate and the political consequences", said Franco.
The Paraguayan leader also talked about Mercosur and the conflict which the removal of Lugo originated: the suspension and blockade of Paraguay by the rest of the members, and the incorporation of Venezuela to the group as full member, "which is rejected point blank by an overwhelming majority of Paraguayan lawmakers".
"Paraguay is not going to accept the interference of Venezuela, and this is also of concern for the other neighbouring countries" said Franco who added that "(President Hugo) Chavez is responsible for much of the fear and violence situation in the north of the country (Paraguay) and this the Paraguayan people knows it and that is why the Paraguayan people do not want to have Venezuela as member of Mercosur".
President Franco's delegation includes members from the other branches: Supreme Court president Victor Nuñez; president of the Lower House Victor Bogado; the First Lady who is also a lawmaker Emilia, Alfaro; Foreign Minister Jose Felix Fernandez; former ambassador before the Organization of American States, OAS, Hugo Saguier Caballero who was named coordinator of the delegation in New York and ambassador Jose A Dos Santos, head of the Paraguayan delegation before UN.
On Monday, Franco is scheduled to meet Professor and economist Jeffrey Sachs and later the head of the Inter American Development Bank, Luis Moreno. Both meetings will take place at the Hyatt hotel where the delegation is staying. In the afternoon Franco will be visiting the New York Stock Exchange at Wall Street.
Monday evening Franco will attend the reception hosted by President Barack Obama at the Waldorf-Astoria hotel and on Tuesday he will be present at the welcoming ceremony from UN Secretary General Ban Ki-moon before the round of speeches begins at the General Assembly.