Ghana court to hold hearing on retained Argentina's ARA Libertad on Tuesday
Monday, October 8th 2012 - 06:28 UTC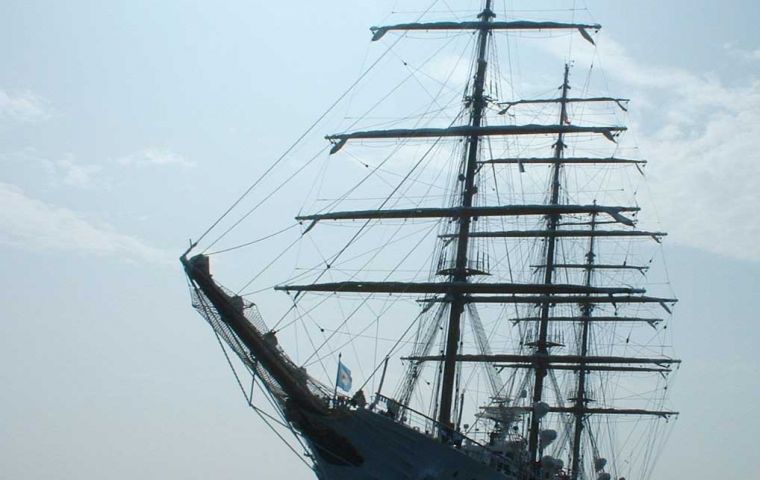 Next Tuesday the Ghana Supreme Court will be holding a hearing to consider a motion from the government of President Cristina Fernandez requesting the annulment of the injunction retaining Argentina's navy training vessel ARA Libertad following a legal proceeding from a hedge fund holding Argentine defaulted sovereign bonds.

"The court scheduled a hearing on the matter for Tuesday October 9 before the commercial division of the high court where the first legal proceeding had started", said Ace Ankomah, layer for the New York based NML hedge fund. He added that "if Argentina pays a bond, the boat is free to go".

ARA Libertad, which is a 103-meter-long sailing ship, used as a training vessel for future naval officers had left Buenos Aires in June with the latest promotion of cadets, carrying a crew of 220, including 69 members of the Navy and 110 students, mostly Argentine but also from neighboring countries such as eight from Uruguay.

The Argentine Foreign ministry described NML as "unscrupulous financers", a "vulture fund" which has been attacking Argentina for years and argued that the Ghana action "violates international law and the Vienna convention on diplomatic immunity; it can only be described as an extortion attempt".

The authorities from the port of Tema where the sailing vessel is retained said they sere "simply complying with an order from the High Court".

"The vessel has not been seized, but rather detained with its crew on board and they are following their daily routine. They've been treated very well by the locals" said an Argentine naval spokesman.

Ghana's courts will now have to decide whether previous rulings in the US and the UK are sufficient to move ahead with NM case against Argentina. The case is but the latest attempt in a tenacious campaign by the debt holders to seize Argentine assets abroad.

NML which belongs to Elliott Capital and other holdout bondholders have been tracking Argentine assets, financial and physical, closely. Back in 2007, a group of bondholders discovered that the Tango 01, Argentina's presidential airplane, would be in the US for scheduled maintenance and pilot training. They moved to get a court to keep the plane grounded after it landed and to seize fuel money the pilots were expected to bring in cash.

The government of the late Nestor Kirchner was warned of the move, though, and cancelled the trip. It then countersued in the US getting California judge William Alsup to declare the presidential Boeing 757/200 was immune from seizure.

In 2009, Argentina was preparing a stand at the world's largest book trade convention, the Frankfurt Book Fair. Rumors that assets could be seized forced Argentine to register its stand under a private individual rather than the state, and a showcase of works of art requested by German curators was withheld given concerns they would be seized. A year later, a Tango 01 trip to Germany was cancelled just as Buenos Aires was warned it would be seized.

In 2010, Singer's Elliott got New York Judge Griesa to ask Bank of America to disclose all information related to personal accounts of the Kirchner family and members of their administrations. Elliott has even gone after Argentina's foreign exchange reserves, coming close to seizing 105 million dollars held at the Federal Reserve Bank of New York.

While most of their attempts to grab Argentine assets have failed in court, Elliott and other distressed debt investors have recorded some victories. Having bought the debt originally for pennies on the dollar, their strategy is to pursue aggressive means to recover a greater amount.

This year, Elliott subsidiary NML and EM (owned by former billionaire Kenneth Dart) got a judge to award them assets of Argentina's Banco Hipotecario (Mortgage) worth approximately 23 million dollars.

Argentina has been cast out of international debt markets since its default in 2001-2002, after its economy imploded. However in 2003 the economy started to recover and Argentina restructured its debt, first in 2005, and then in 2010, with approximately 93% of bondholders accepting harsh new terms. But holdouts (hedge funds or 'vulture funds') are determined to recover their money plus interest.

Likewise Argentina still has pending debts the Club of Paris of rich nations estimated in over 6.5bn dollars.