Argentina sends top level political mission to Ghana after the ARA Libertad
Friday, October 12th 2012 - 05:57 UTC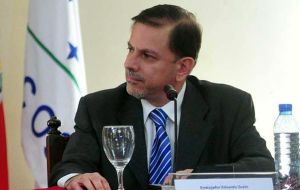 Argentina is sending a top level ministerial delegation to Ghana to discuss the release of the Navy's tall vessel ARA Libertad, retained in the African country following a Thursday court ruling which confirmed the seizure on the complaint from a hedge fund.

Deputy Foreign minister Eduardo Zuaim and Alfredo Forti are on their way to Accra where they will try to convince government and judicial authorities to release the vessel arguing that the seizure is contrary to international law and conventions.

On Thursday an Accra court rejected the plea put forward by Argentina to release the ARA Libertad training ship, which has been detained with its crew since October 2nd.

"There are no sufficient grounds for the plaintiff (Argentina) to disallow a court sentence. The motion has been rejected," stated Judge Richard Adjei Frimpong, of the Accra Commercial Tribunal.

"This decision is in violation of international law which support the immunity of the tall ship since it is a war vessel belonging to a sovereign country" argued the Argentine Foreign ministry in an official release.

It adds that the decision compromises the international responsibility of Ghana and adds to the "judicial situation a political dimension with impacts on bilateral relations".

Despite the judicial appeal to be implemented immediately, "both ministries have decided that Deputy Ministers Forti and Zuain travel to Ghana for a joint presentation before the highest officials the government of African nation".

The Argentine government trusts that the reply from the authorities to the presentation will quickly enable the end of the current controversy triggered by the action of a "vulture fund". If not Argentina reiterates its firm decision to use all available resources both bilaterally and internationally for the recognition of its sovereign rights".

"Argentina will not yield sovereignty to the vulture funds and the illegitimate impounding of the frigate ARA Libertad or to those who are intent in imposing a global system which has the peoples of the world subject to speculative funds", concludes the release.