Saturday,
October
13th
2012
- 08:42 UTC
Tens arrested in violent clashes during Chilean students' protests in Santiago
Demonstrations of thousands of students that turned out to the streets of Santiago and other Chilean cities to demand better education, ended in violent clashes with riot police which had to appeal to tear gas, water cannons and paint guns to later identify protestors, tens of which were later detained.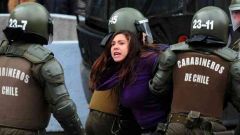 The Thursday protest march was organized by secondary and university students plus professors and staff unions in the midst of the congressional debate on the 2013 education budget and two weeks before municipal elections.
According to Carabineros estimates the number of protestors was in the range of 5.000. Student organizations say the turnout was 20.000 but they were expecting 80.000 as in other demonstrations that have taken place during the last 18 months. Opinion polls indicate that 70% of the Chilean population support students' demands for a better and free education.
All was fine and peaceful until 45 minutes after the march took off when hooded protestors 'infiltrated' started to provoke Carabineros setting up barricades with metal railings, kicking garbage bins, tearing down traffic signals, setting fire to a security cabin and attacking a fire department outpost.
Protestors clashed security forces with rocks, sticks, cobblestones and Carabineros responded with water cannons, tear gas and paint pellets to identify and detain the violent elements.
"Incidents are always regrettable. We were hoping that at the end of the day education and our proposals would have been the big issue, but it was shadowed by the incidents", said Gabriel Boris president of the University of Chile federation of students.
"The demonstration takes place in a very special context which is the budget discussion in congress and the campaigns for the municipal elections of next October 28", said Noam Titelman, student leader from the Catholic University.
Since 1981, when the time of dictator Augusto Pinochet, secondary schools in Chile are under the administration of local municipalities, but students want them back under responsibility of the Ministry of Education.
Secondary students are also demanding that mayor and council candidates pledge not to close secondary schools or consolidate them because the number of students in public schools has dropped from 88% to 36% in thirty years.
The Pinochet regime policy was to dismantle government schools and privilege private schools to neutralize unions and have a more controlled students' mass. However the policy made education a great business for the private sector and quality disparity soared based on the funding of the different districts.
The 2013 education budget presented by the government of President Sebastian Piñera totals 12.8 billion dollars with a 9.4% increase which is geared to increase the number of scholarships and reduce the cost of students' credits.
But students insist with Titelman arguments in the need to modify the financing of education and "change a system based in a subsidy to the demand that during thirty years has delivered huge inequalities in the quality of education".
Gabriel Boric also accused the government of doing nothing to prevent private universities from making profits "which is banned since these colleges receive government subsidies but they take advantage of legal loops".