Tuesday,
October
23rd
2012
- 01:37 UTC
US oil company team visit Falklands to assess industry's infrastructure support
US based Noble Energy and farm-in partners with Falkland Islands Oil and Gas (FOGL) visited the Falklands to meet with their partners and the Falklands government and to assess in-situ the oil related infrastructure.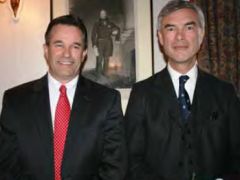 Texas based Noble Energy Regional Vice President International Division Charles J'Chip Rimer said he was struck by the Falklands' "generosity, openness and transparency".
Together with a team of advisors Chip Rimer flew in to the Falklands from Houston by private jet.
At a reception hosted by Governor Nigel Haywood the visiting businessman told invited guests: "Noble has been in different areas all over the world but one thing that jumps out at me here, I feel a generosity and openness and transparency."
Chip Rimer added that Noble Energy emphasised "communications," in its relationships and commented "we may not always agree, we may not always understand but if we can communicate we can find avenues to go forward to our future."
In August when FOGL sealed the deal with Noble Energy, FOGL Chief Executive Tim Bushell, who was also in the Falkland Islands to hold talks with his associates said: "We are delighted that Noble is joining us in our exciting exploration program".
"Noble brings strong technical expertise and an excellent track record of exploration and development success."
FOGL also have a farm-out agreement with French/Italian exploration and production company Edison; set up in June 2012.
From Houston, Susan Cunningham, senior Vice President for exploration, said that drilling in the Falkland Islands began on an exploration well in the region late last month, the first that Noble has participated in that area.
"If that well results in an oil discovery, the first production could come by 2018 or early 2019", said Ms Cunningham.
Under the farm out agreement with FOGL, Noble has a 35% operating interest in most of FOGL licenses and agreed to spend 180 million to 230 million dollars on exploration over the next three years.
"We believe that the Falkland Islands is an area where above-ground risk is very manageable" said Ms Cunningham adding that "the regulatory environment is sophisticated and stable, and the financial terms are attractive. (PN/MP).-