Wednesday,
October
24th
2012
- 05:51 UTC
Cristina Fernandez triggers further uncertainty and fears to markets and investors
The Argentine stock market Merval index fell the most in eleven months following on President Cristina Fernandez plans to overhaul securities rules and force insurers to spend more on industrial and infrastructure projects.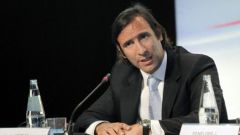 The benchmark dropped 3.6% to 2.368.96 at the close of Tuesday trading in Buenos Aires, its steepest decline since November 2011.
A bill will be sent to Congress that replaces self- regulation of issuers and brokers with a greater role for the regulatory agency known as CNV. The proposal would also make trading cheaper, interconnect markets and eliminate the requirement for brokers to be stakeholders in exchanges, Economy Minister Hernan Lorenzino said Monday in televised comments, next to President Cristina Fernandez.
"We want to generate a big change in line with major global markets and the expansion of channels that the general public can access," the minister said. "We are going to propose that the markets themselves operate as corporations and have the obligation to propagate their activities".
The announcement brought further uncertainty to markets and fears that the administration of President Cristina Fernandez will continue to advance with the long list of interventionist policies she has been implementing since last year. The list includes limiting imports, making insurers to repatriate investments and banning the buying of dollars for savings, real-estate transactions and the repayment of local debt.
Speaking in a televised national address on Monday the Argentine president said the bill will force insurance companies to raise their investments in projects to 7 billion pesos (1.48 billion dollars) next year from the current 88 million pesos.
"We're going to modify the destination of insurers' phenomenal amount of funds so they go from short-term investments of financial nature to long-term investments of productive nature" said Cristina Fernandez.
Describing the initiative as 'a turning of a page for the destination of insurance firms' funds', the president recalled the Federal Reserve's bailout of AIG in the United States after the 2008 market crash as setting a bad example.
Insurance companies, which hold 64 billion pesos, will be forced to invest from 5% to as much as 30% of their funds in such projects, she said. Their investments will be determined by a committee led by the Economy Ministry, according to what published Tuesday in the official gazette.
The capital market bill will give the CNV greater faculties to create new instruments that will enable retail investors to participate in investment projects, Minister Lorenzino said. It will also allow state agencies to share information.
"We are promoting state intervention in capital markets to protect investors," he said.
The securities regulator and universities will have a role in credit ratings, he said.
Cristina Fernandez described the credit rating industry as a "fraud".