Argentine seamen are back in Buenos Aires; small group remains in Ghana
Thursday, October 25th 2012 - 06:28 UTC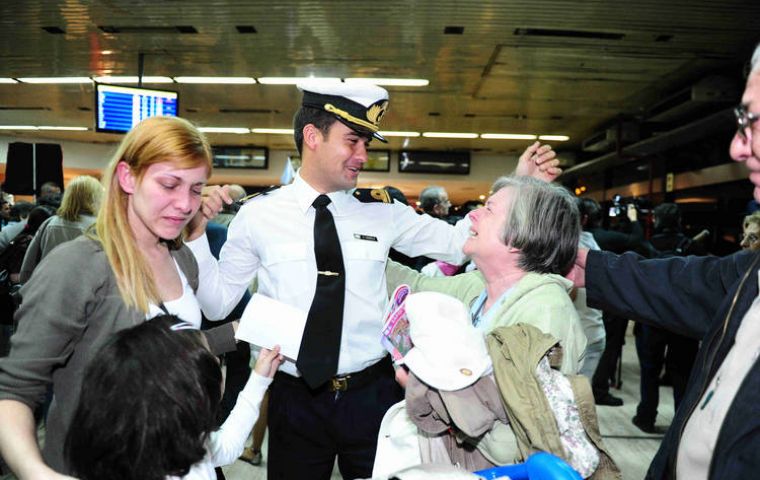 After three weeks retained in Ghana, members of the crew and cadets from the Argentine Navy training vessel ARA Libertad arrived past midnight Wednesday to Ezeiza airport in Buenos Aires where relatives and media were waiting.

The specially chartered Air France Boeing 777 left Ghana mid afternoon with 279 seamen, of which "a fraction are crew members of the training vessel plus all cadets from the Navy and Army schools and all national and international guests", said a brief release from the Argentine Navy.

Stranded for three weeks because the vessel was impounded by NML Capital, which demands payment of Argentine sovereign bonds, the seamen left the port of Tema for the airport of Kokota in nine buses heavily escorted while 44 crewmembers and the captain remain for the maintenance of the flagship of the Argentine navy.

The Navy said that following medical check-up the cadets can join their families and must return by Monday November 5 to complete their training for the graduation ceremony scheduled 8 December.

The group flown back also includes naval cadets from Brazil, Chile, Ecuador, Paraguay, Uruguay and Venezuela. Two of the Chileans (one of them was injured) out of a crew of 15, arrived in Santiago Wednesday midday. They were received by Defence minister Andres Allamand.

"We were always convinced we would sail; we kept waiting for the day to leave the port", said the Chilean cadets who added that "people in Ghana are very friendly and were kind with us".

Meantime the Argentine government continues with its diplomatic lobbying and legal battle with NML-Capital, a battle which so far it has been losing.