Mercosur and Unasur 'need' Paraguay; 'other interests' created current situation
Friday, October 26th 2012 - 06:53 UTC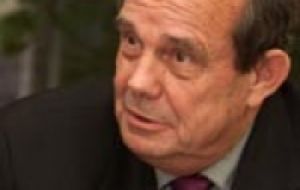 The Organization of American States, OAS special envoy said on Thursday that Mercosur and Unasur 'need' Paraguay and the suspension of the country from the two organizations can be tracked to other interests unrelated to those events.

"There is no doubt that many of the solutions referred to Paraguay were decided based on other interests of the countries involved and which had little to do with what really happened here in Paraguay", said envoy John Biehl del Rio who is also a political advisor to OAS secretary general Jose Miguel Insulza.

He added that "many countries are beginning to understand this situation. Paraguay is missing and is needed in the international community, it must return".

Biehl del Rio is heading a mission opening ground for the observers that OAS will be sending to the 21 April 2013 presidential election when Federico Franco, who replaced removed Fernando Lugo will be stepping down.

The delegation met with Foreign minister Jose Felix Fernandez Estigarribia, representatives from political parties and with Electoral Justice Superior Tribunal. On Friday they will be working with the electoral authorities on preparations for the coming April event.

In a brief exchange with the media Biehl del Rio described the Paraguayan political crisis of last June as "a bump in the road" adding that the reaction from the neighbours "for many probably was unfair and looking into other interests".

Without mentioning any country, the OAS advisor said that "Unasur needs Paraguay and this is felt and known, and probably is also true for Mercosur".

If Mercosur "wants to strengthen, to be able to solve its problems, it will understand that dialogue, cooperation and understanding is what makes countries great, and this can't be done to Paraguay".

Biehl del Rio also praised the openness and sincerity of discussions with the Paraguayan political parties that have accepted "a dialogue forum which OAS wants to organize parallel to the election observers' mission and that will address four or five state policy issues such as security and land distribution.

Precisely the distribution of land is behind the removal of Lugo, decided last June in an impeachment by the Senate in which almost all parties and almost unanimously agreed that the president was incompetent in the performance of his duties.

In reference to what was discussed with political parties' representatives, the OAS advisor said that great challenge for the Paraguayan congress was not to dissent but to agree, and admitted that the political system has shown willingness to take what happened as "a challenge to improve democracy".

Finally Biehl del Rio also praised the Electoral tribunal saying they have in the past organized elections 'with no mistakes' and announced that 90 observers will be sent in April together with those from the Carter Foundation and the EU.

The Paraguayan Electoral tribunal has also decided to invite members of its peers from Unasur country members to participate in the observation of the elections.