Drastic changes in UK forces: Territorial Army will be deployed in the Falklands
Friday, November 9th 2012 - 05:41 UTC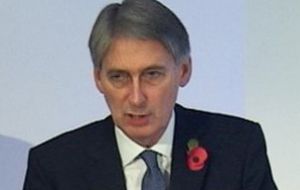 UK Defence Secretary Phillip Hammond signalled Thursday morning that members of the Territorial Army will be deployed to the Falkland Islands. Addressing the House of Commons Secretary Hammond said that reserve forces will be expected to fulfill new roles including contributing to standing commitments such as the Falklands.

The government wants to double the size of the Territorial Army to 30,000 and rename it the Army Reserves. The size of the regular army is being cut by 20,000 to 82,000.

The Ministry of Defence is to invest £1.8bn over the next 10 years in training army reservists and integrating them more closely with regular army units.

"The reserves will be a part of almost every type of operation that our armed forces conduct, whether it's in combat, capacity building or fulfilling more routine commitments," Mr Hammond told MPs.

He said army reservists will be given "much better defined" and "more fulfilling" roles, properly resourced and with adequate training.

In return, they will be required to commit to regular training and deployment.

The government says it will support employers of reservists and give them more notice before staff are deployed - which shadow defence secretary Jim Murphy said was "vital".

The plan which also cover Navy and RAF reservists, are being put out for consultation. The government says responses will form part of a white paper to be published next year on the future role of reservists.

Labour said it would support reform of the reserve forces - but Mr Murphy told the Commons he did not think the government's proposals had been adequately thought through.

He also raised concerns about the backlog of applicants in the system, which Mr Hammond conceded was an "issue".

The defence secretary said it had to be resolved before the publication of the white paper next spring.