Topsy-turvy inflation numbers from Argentina's official stats office
Saturday, November 17th 2012 - 05:37 UTC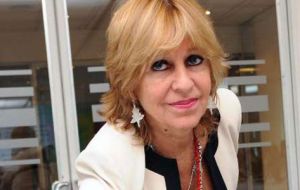 More bad publicity for Argentina's official Stats office, Indec: not only are the institution's releases on inflation taken lightly or ignored by a majority of Argentines and openly questioned by the International Monetary Fund, now the head of the office was caught driving under the influence of alcohol.

According to the Argentine media Ana Maria Edwin was tested during a regular Safe Driving control in Buenos Aires, which resulted positive and now she must attend special courses of awareness about the effects of driving under such conditions and comply with community work.

The probation system was introduced to the Argentine Penal Code in 1994 and allows for the sentence in such cases to be replaced by community work in those cases when the maximum punishment for the crime does not exceed three years of incarceration.

According to Clarin on Tuesday July 24 at 0:55 in the morning Ms Edwin was driving her Honda City along Cordoba Avenue, one of the most important arteries of Buenos Aires when she was stopped for an alcohol test that proved positive.

The test showed a blood alcohol content of 1.19 which is more than double the maximum allowed of 0.5.

According to Article 111 from the Contravention Code from the City of Buenos Aires, whoever is found driving under the influence of alcohol or drugs is exposed to a fine or arrest, plus the loss of ten points in his/her scoring table.

However under the probation system Ms Edwin will have to comply with community work plus attend regular courses on the perils of driving under the influence of alcohol or drugs.

Indec was a much respected institution in Argentina but since 2007 when professionals were replaced by political appointees the quality of work had plummeted. Indec annual inflation is in the range of 9.5% to 10.5% when all private consultants and some provinces stats offices that not depend from the government of President Cristina Fernandez coincide that a more accurate estimate would be in the range of 22% to 24%.

The IMF has also repeatedly asked Argentina to improve the methodology of its inflation and GDP growth stats, and no longer accepts the official rates as valid.