UN consensus decision confirms Spain formally abandons Gibraltar trilateral process
Monday, November 19th 2012 - 11:24 UTC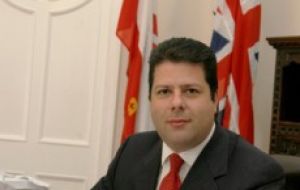 Spain's decision to pull out of the trilateral process was formally recorded in the consensus decision on Gibraltar adopted by the United Nations General Assembly this year.
The annual decision also notes the UK's desire to continue with the three-way talks despite the Spanish position.
As in other years, the decision urges the UK and Spain to reach a definitive solution to the question of Gibraltar "in the spirit of the Brussels Declaration" but while listening to the "interests and aspirations" of Gibraltar.
But the different stance of each government in respect of the trilateral forum led to a break with past language in the decision, which had in essence been rolled over unchanged for several consecutive years.
The latest decision reflects "…Spain's desire to replace this forum with a new mechanism for local cooperation in the interests of social wellbeing and regional economic development, in which the people of the Campo de Gibraltar and Gibraltar are represented."
The UK and Gibraltar both believe that the trilateral forum is the best format for talks on issue of mutual interest but Spain disagrees. This year's UN consensus decision was discussed in the Gibraltar Parliament last Thursday following a question tabled by Opposition leader Peter Caruana.
Chief Minister Fabian Picardo said that the Gibraltar Government had been consulted on the content and language of the consensus decision. But he said that the consultation "leaves a very bad taste in the mouth" because Gibraltar's opinions – as had always happened in the past - were not reflected in the text.
"This is not a document that any Gibraltarian would draft or want to see drafted," Mr Picardo said. "It is the product of diplomacy."
The consensus decision on Gibraltar is adopted by the UN General Assembly without a vote. It allows both governments to set out their respective positions on Gibraltar without the need for an open confrontation with the UN forum.