ECB slashes Euro-zone growth prospects; further rate cut not discarded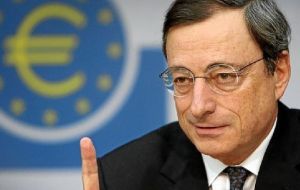 The European Central Bank on Thursday opened the door to a rate cut next year, after slashing its economic growth projections for the 17-member Euro- zone.

Speaking at his monthly press conference, ECB President Mario Draghi said the Euro-zone economy will shrink by 0.3% in 2013, reversing a September projection of 0.5% growth.

"The economic outlook is weak," Draghi told reporters with concerns having grown recently that the Euro zone could lurch deeper into recession in the coming months.

The region's economy is set to slump by 0.5% this year, Draghi said. It should expand by 1.2% in 2014, the December projections show.

But the risks to the outlook remain on the downside, he said.

The ECB chief also said that inflation should fall next year below the ECB annual target of 2% amid slowing economic growth after coming in at 2.5% in 2012.

Unemployment in the Euro zone surged to a record 11.7% in October as governments rolled out a tough round of fiscal austerity aimed cutting back high deficit-and-debt levels.

"It is a very high price but it is unavoidable," Draghi said, laying the blame on governments for failing to act earlier to clean up their state finances.

Draghi's downbeat economic outlook resulted in the euro slumping 0.7 % to below the key 1.30-dollar mark.

Still, he said the Frankfurt-based bank expects economic activity to gradually recover later next year following a pickup in global demand and the bank's accommodative monetary policy.

However, he conceded that the economic indicators had been mixed and that the bank was continuing to monitor economic developments.

The release of the ECB new economic projections came after the bank announced that it held borrowing costs at an historic low of 0.75%.

Interest rates in the 17-member Euro-zone have been on hold since July.
But Draghi declined to say whether the bank has done enough to bolster economic growth.

"There was a wide discussion but in the end there was a prevailing consensus to leave interest rates unchanged", Draghi said when asked if the bank's governing council had discussed a rate cut.

In his comments to reporters Thursday, Draghi also said that he believed the Euro zone's proposed new bank supervisor should be monitor all of the currency bloc's 6,000 lenders.

German opposition to the bank authority having responsibility for all the region's banks has lead to tensions among Euro zone members as they attempt to agree on the supervisor's powers.

But Draghi said: "In practice, a supervisor will not be able to monitor all banks".