UK reaffirms commitment to trilateral dialogue on Gibraltar, despite Spain
Thursday, December 13th 2012 - 07:20 UTC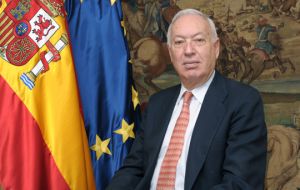 The British Government reaffirmed its commitment to trilateral dialogue, despite claims from Spain that London and Madrid would discuss the waters row on bilateral terms leaving Gibraltar aside. A spokesman for the Foreign & Commonwealth Office said trilateral dialogue was the only acceptable mechanism for "formal" talks about Gibraltar.
The statement came in reaction to comments by Spanish Foreign Minister José Manuel Garcia-Margallo, who said on Monday that Britain and Spain must cooperate in the management of overlapping EU nature sites Gibraltar waters.
"Both the UK and Spain have obtained the right, the obligation and duty, the responsibility, of protecting the environment in the same waters," he said. The Spanish minister also claimed officials from the two governments – but not from Gibraltar - would meet in the coming days to discuss issues relating to Gibraltar waters.
On Tuesday a spokesman for the Foreign & Commonwealth Office confirmed that its policy on dialogue had not changed.
"The UK continues to support the trilateral forum as the only formal dialogue process which is acceptable to Her Majesty's Government and to Her Majesty's Government of Gibraltar and has repeatedly made this clear to the Spanish Government and will continue to do so," the spokesman said.
The Gibraltar Government followed discussions with London by issuing a statement which firmly denied that there are plans for a UK –Spain bilateral on Gibraltar waters issues. Britain's position is that it does not recognise the Spanish EU-approved nature site in Gibraltar waters, which it says are exclusively of British sovereignty.
This is the second time within the space of a month that the British Government has found itself obliged to respond to off-the-cuff comments by Minister Garcia-Margallo. Last month, the Spanish Foreign Minister suggested that Britain and Spain were poised to reach a bilateral solution to the fishing dispute.
"I think I can say that in a very few days we are going to reach a solution that is satisfactory for both kingdoms," he said during an interview on Cadena Ser at the time. But the Foreign Office questioned the Spanish Foreign Minister's statement and said any solution must involve Gibraltar.
Likewise No 6 Convent Place issued a statement to clarify the position in relation to the Spanish Foreign Minister's claim there will be bilateral meetings of UK and Spanish officials in respect of environmental matters. The statement, which followed conversations between the Foreign Office and No 6 said that Garcia Margallo's claim was "untrue" and the FCO has confirmed that there will be no such bilateral meeting.
"Moreover, Her Majesty's Government of Gibraltar has assurances that if in any engagement on other matters, Spanish officials or Ministers were to raise matters related to Gibraltar's Sovereignty or our Constitutional competences, the answer will be simply to restate the established position on sovereignty and the fact that jurisdiction on all matters except defence and foreign affairs is constitutionally with Her Majesty's Government of Gibraltar."