"Doctors of the World" claims there are 16.000 living in the streets of Buenos Aires
Saturday, December 15th 2012 - 06:29 UTC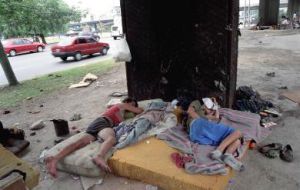 There are over 16.000 homeless living in the streets of Buenos Aires with great difficulties to access public health services according to the 'Health in the streets' report from 'Doctors of the world' and which was released Friday in the Argentine capital.

The Non Government Organization demanded "a space in the city of Buenos Aires for the care of life, health and social protection", which should be a priority to address the serious social, sanitary and human situation which the over 16.000 homeless represent for a city of over four million.

The report points out that 'Doctors of the world' in Buenos Aires provide physical and mental support to over 2.000 people living in the streets of the Argentine capital for over ten years, and the report is based on a survey with 5.700 interviews in different public places of the city.

The lack of IDs is the main obstacle for access to public health services and the support programs for 80% of the homeless, according to the report, which adds that 95% of public health in city hospitals does not have attention strategies for this segment of the population.

Almost half of the homeless, 49% do not attend public refuges because they complain of ill treatment, restrictive timetables and they are banned from entering with their families. The remaining 51% suffers different addictions such as alcohol, tobacco and cocaine, say the Doctors of the World report.