Chavez candidates sweep in provincial elections; Capriles confirmed as opposition leader
Monday, December 17th 2012 - 06:09 UTC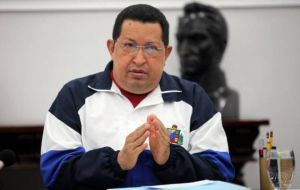 President Hugo Chavez candidates swept nearly all of Venezuela's 23 states in Sunday's regional vote, but Henrique Capriles consolidated his position as top opposition leader by winning re-election as governor.

The 40-year-old governor of Miranda beat Chavez's former vice president Elias Jaua to retain his job at the head of Venezuela's second-most populous state Miranda, leaving him as candidate-in-waiting if Chavez's ill health forces him to step aside.

The ruling Socialist Party, however, extended its control over the country snatching four states from the opposition to win 19 of 23. It staged several upsets including a victory in the most populous state of Zulia.

The youthful Capriles' re-election will help maintain unity among the historically fractured opposition in a potential election against Vice President Nicolas Maduro, Chavez's anointed successor.

"The people have spoken and decided! Long live Miranda!" Capriles tweeted.

His supporters whooped for joy at his headquarters in Caracas, where there had been scenes of despondency just two months ago when he lost the presidential fight.

Another prominent opposition leader, Henri Falcon, a former government ally who broke with Chavez in 2010, also won re-election. His broad popularity and appeal to working class voters have left many considering him a potential challenger to the populist government.

"Venezuela's new leadership is still alive," Falcon said.

But overall, the results were a major disappointment for the opposition and signalled the continued dominance of Chavez's populist leadership despite his ill health.

Capriles won by only four percentage points in the state he says he has made into a model for Venezuela.

At the same time, Chavez's brother Adan comfortably held their agricultural home state of Barinas, while the president's former military comrade Francisco Arias unseated a prominent opposition leader, Pablo Perez, in oil-rich Zulia state.

"It's been an immense victory. The map is red in all corners," said Socialist Party campaign coordinator Jorge Rodriguez.

Turnout was a poor 54%, reflecting weariness with politics after the recent presidential campaign and the closeness of the Christmas holiday season.

Opposition sympathizers have grumbled that the date was intentionally chosen to heighten voter abstention to the benefit of Chavez allies.