Former Director of three Departments awarded MBE 'for services to Falklands' interests'
Friday, January 4th 2013 - 05:29 UTC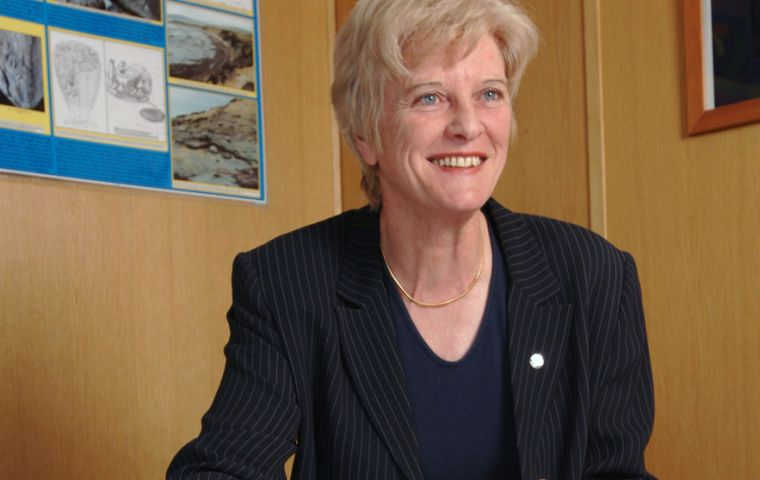 The only Falkland Islander to figure in this year's New Year's Honours List was recently retired Director of Mineral Resources, Phyllis Mary Rendell, who was awarded an MBE for, "services to Falkland Islands interests."
A pupil at Darwin Boarding School during her early school years, Mrs Rendell completed her education at boarding school in Derbyshire and Goldsmith's College, London. Born Phyllis Oliver, her father, Mr John Oliver, was recruited by the Falkland Islands Government to run a proposed model farm at what is now Brookfield and later became the FIC manager at North Arm.
After qualifying as a teacher in England, Mrs Rendell returned to the Falklands to work in Stanley schools in the early seventies, also helping out at Darwin Boarding School for a brief period. Having met and married Mike Rendell, who was a member of Naval Party 8901, the Royal Marine detachment at Moody Brook, Mrs Rendell left the Islands with him to teach in the UK and the Middle East.
Very soon after the liberation of the Islands from Argentine occupation in 1982, the Rendells returned to the Islands where Phyllis resumed her career in the government service, first as a teacher, then in 1984 as Director of the Camp Education Department and finally, a few years later in 1988, becoming Director of Education.
It was while still Director of Education that Mrs Rendell began to be involved with oil exploration. The first time was in 1995 as a representative from the Islands in meetings held in Buenos Aires between the Argentine and British governments to discuss procedures for the establishment of a joint area for hydrocarbon explorations, then later in London, in 1996, in meetings between FIG and oil industry representatives interested in exploration in Falklands waters.
Later that same year, having proved her abilities as a negotiator on the Islands' behalf and with her interest in oil exploration whetted, when the need for a Director of Oil arose, Mrs Rendell rose to the challenge. She continued in that position, later renamed Director of Mineral Resources and including five years when she was also Director of Agriculture, until retirement last year. In this capacity she has gained the respect of the oil industry and ably overseen the first stages of the development of what seems set to become a major revenue source for the Falklands.
Speaking to Penguin News about the award, Mrs Rendell said that it was unexpected and, "a nice end to the year." While she was personally very proud to have received such an honour and wished particularly to thank those who had proposed her, she believed that it was also, "good for the public service." During thirty-two years working for the Falkland Islands Government, including being head of three different departments, she had worked with, "a fantastic team of people," who also deserved credit for the significant changes achieved.
Despite retiring from government service, Mrs Rendell has not given up the service to this community for which she has been so justly rewarded. A long serving Justice of the Peace, she was recently appointed to the new role of Complaints Commissioner. (PN)