Wednesday,
January
9th
2013
- 19:46 UTC
Venezuela top court endorses inauguration postponement; massive 'legitimization' rally on Thursday
Venezuela's Supreme Tribunal constitutional chamber endorsed the postponement of Hugo Chavez inauguration scheduled for Thursday and ruled that the cancer-stricken leader remained as the constitutional president of the country since he was re-re-elected and was granted a leave of absence for medical reasons by the National Assembly.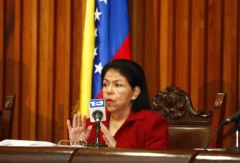 "Right now we cannot say when, how or where the president will be sworn in" Supreme Court Chief Judge Luisa Morales told a packed live news conference.
"As president re-elect there is no interruption of performance of duties ... The inauguration can be carried out at a later date before the Supreme Court" added Judge Morales.
"Besides the president requested a five-day plus absence for medical reasons, --a human right granted to any Venezuelan--, and was approved by the National Assembly and again confirmed on Tuesday by the legislative".
"The Executive made up of the president, vice-president, ministers and other offices and officials from the administration will continue fully exercising their duties founded on the principle of administration continuity", indicated Morales.
This means both Chavez and his heir apparent, Vice President Nicolas Maduro, would remain in the roles after January 10, thus quashing opposition appeals for a caretaker president to be named.
The 58-year-old leader has not been seen in public or heard from in almost a month following surgery in Cuba. The government says he is in a delicate condition and cannot attend Thursday's scheduled swearing-in for a new six-year term.
Government leaders insist Chavez is fulfilling his duties as head of state, even though official medical bulletins said he suffered multiple complications after the surgery, including a severe pulmonary infection, and has had trouble breathing.
The opposition argues that according to the constitution, article 231, the new presidential mandate begins on January 10 and as of that date all elected and political posts from the previous administration cease in their functions. A care-taker president must be named and this is the president of the National Assembly, in this case Diosdado Cabello.
The Venezuelan government has called for a massive rally outside the presidential palace on Thursday, and allied presidents including Uruguay's Jose Mujica, in representation of Mercosur, and Bolivia's Evo Morales have confirmed they will visit Venezuela on Thursday despite Chavez's absence.
The rally is seen by the organizers and Chavez followers as a massive demonstration legitimizing the president's new six-year mandate.
Argentina will be represented by Foreign minister Hector Timerman and Brazil by the Executive foreign policy advisor Marco Aurelio Garcia.
The constitutional interpretation of the January 10 swearing in ceremony and 'its sacramental entourage' by the Supreme Tribunal and the National Assembly vote extending the president's absence comes as no surprise since both bodies are dominated by President Chavez appointees and lawmakers.'
On Tuesday is was also made public through Defence minister Diego Molero that the Bolivarian National Armed Forces, FANB, have ratified their 'unquestionable loyalty' to Vice-president Nicolas Maduro who is acting as interim head of the Executive following on instructions from Chavez before he left for Cuba.
"From the highest ranking officers to the last serviceman, the FANB is united and in cohesion with the highest morale and with unquestionable loyalty to Vice president Maduro" said Molero.
"We are committed mind, soul and heart with this revolutionary process and you can count with anti-imperialist Socialist revolutionary armed forces, clearly dedicated to enshrine the Bolivarian ideals", added the Defence minister.