In a highly political speech CFK appealed to the motherland and blasted hedge funds
Thursday, January 10th 2013 - 11:56 UTC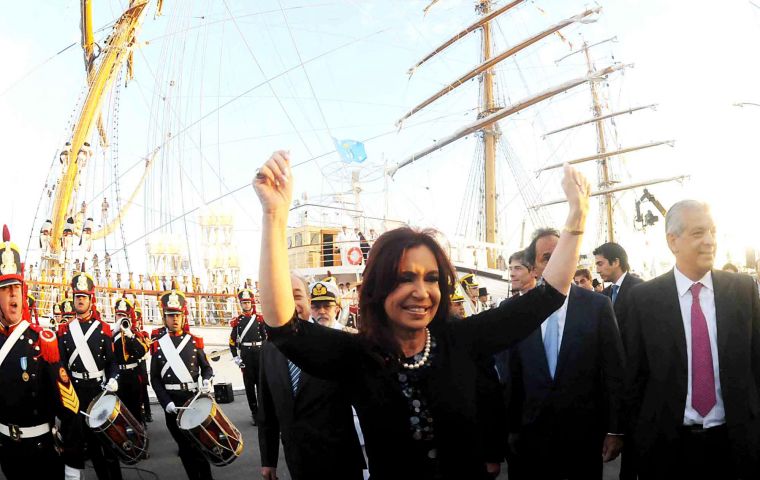 President Cristina Fernandez (CFK) as expected made the welcoming ceremony for the Argentine frigate ARA Libertad (retained in Ghana for 78 days) into a 'sovereignty and dignity' political rally including the support of 20.000 militants, mostly bused in by political organizations, in which she blasted hedge funds, 'global social predators' and warned that through extortion and force nobody is going to obtain anything from Argentina.

"We're a government accustomed to external, internal and even underground pressures but we will continue to resist any extortion because no one will ever obtain anything from Argentina by extortion and by force", said the Argentine president addressing a crowd estimated in 200.000 which gathered Wednesday evening at the Mar del Plata submarines base to welcome ARA Libertad, escorted by other Navy units.

In a speech with strong patriotic appeal and pledges of unrestricted defence of Argentina's interests, the president said that not all governments resist pressure in reference to Ghana, --where the Argentine navy flagship remained impounded for 78 days--, and lashed out at vulture (hedge) funds, which she described as "social savage predators".

The whole Argentine cabinet turned out at the 'sovereignty and dignity' event plus lawmakers, governors, mayors, political, social and human rights leaders as well as Uruguay's Defence minister Eleuterio Fernandez Huidobro. A privileged first line of thousands of militants with flags, posters and songs especially dedicated to Cristina Fernandez made up the scenario to which no members or representatives of the opposition were invited.

"Gentlemen officers and petty officers, welcome back to our homeland: all Argentines acknowledge your dignified defence of our flagship and flag" said Cristina Fernández as she began her speech at the Mar del Plata naval base after boarding the vessel at 20:00 hour sharp and greeting one by one most of its crew. The three-mast training vessel which had arrived a day before and was waiting out at sea approached the port of Atlantic resort Mar del Plata near the beaches so that the thousands of tourists that were waiting could see her arrival. The frigate was followed by 150 sport and fishing ships and the corvette Espora which had been stranded in South Africa and also in fear of impounding from hedge funds.

The speech, on national television, invoked Argentine independence heroes such as Jose de San Martin, Manuel Belgrano and Admiral Guillermo Brown the Irish man considered the creator of the Argentine navy, whom the president said showed at all times courage "and what you need to be a man", sometimes even disobeying orders from Buenos Aires to ensure the consolidation of the nation.

Cristina Fernandez recalled that during the seventy long days "many or maybe not so many" but powerful and with strong media repercussion, were asking to give in, to pay the hedge funds, to pay a bail, but "our government paid respect to its historic legacy" and as Brown would have preferred to scuttle the vessel before surrendering the flag.

With words loaded to defend the policies of the current government and that of her deceased husband Nestor Kirchner, the president added that "paradoxically many of those who were telling us to kneel down before the vultures, are the same who indebted Argentina, the legacy we are supporting and strictly complying after restructuring 93% of the debt with our creditors".

The Argentine president said these vulture funds are not mere chance: they emerge when the heavy indebtedness policies bring de-industrialization, loss of jobs, hunger to the people and then they buy defaulted bonds for 10% of their face value and later claim full value be it by illegally impounding assets as happened with the frigate ARA Libertad. "But we ignored vultures, our local caranchos (South American buzzards), we listened to none, we only listened to our people that demanded respect and dignity"

"Argentina went through two of these periods in recent history, in the seventies and the nineties, we all remember that and what we need are rules, more rules for what has become anarchic-capitalism worldwide".

Finally in what was interpreted as a reply to personal attacks questioning the speed and origin of her fortune and some non-presidential attitudes, Cristina Fernandez ironically said it would be "so nice and pleasant" to talk about colours and fashion but those who occupy executive posts must make decisions that "many times are not liked by everybody".

"How nice would be to share smiles with everybody and take no risks, no responsibility, how nice to talk only about colours and fashion, I'd love to" said the president in a clear reference to Buenos Aires province governor Daniel Scioli who is considered a strong much-loved 2015 presidential hopeful and who she included in an escalating twitter controversy about her assets that erupted when a famous Argentine actor, Ricardo Darin (Oscar for the best non English spoken film "The colour of your eyes") questioned their origin.

"Don't ask me for a hypocrisy gesture, I rule for everybody with my defects, errors and horrors. I am as I am, I don't lie, I don't cheat, I care for the motherland, for the flag and this I will continue for fight for wherever I have to be", said the Argentine president finishing her emotive and highly political words with several "long live the motherland" and "long live Argentina".

The celebrations included musical performances and a display of fireworks.

Before the ceremony anti-government protesters held a pot-banging demonstration near the dock of the frigate's arrival to protest against the President and her administration. However they were rapidly dispersed by Kirchnerite militants and security forces had to intervene to impede their access and possible clashes with the militants.

Argentine media reported that most first line Kirchnerite militants, estimated in 20.000 with their flags, posters and drums, arrived in a carry-operation from different provinces in at least 500 contracted buses that were parked in a three kilometres span.

ARA Libertad left from Ghana on 19 December with a crew of 143 after spending 78 days retained in the port of Tema. She was retained 2 October when a Ghanaian court agreed to a legal demand from the US hedge fund NML. The dispute reached the Hamburg based US Law of the Sea tribunal which on 15 December ordered the immediate and unconditional release of the vessel.