Strong ruling party leader ignores Cristina Fernandez 'dollar clamp' policy
Tuesday, January 15th 2013 - 06:55 UTC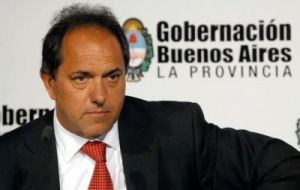 Following recent criticism from President Cristina Fernández in support of her 'dollar clamp' policy, Buenos Aires province Governor Daniel Scioli justified his savings in US dollars by affirming he needs to travel overseas because of his physical problem.

"I have a physical problem that is obvious and that forces me to travel once a year, so I have to be reasonable about the availability of resources toward my treatment" said the governor in reference to his prosthetic arm.

The Cristina Fernandez administration has been implementing for over two years a policy that discourages Argentines to deal and save with US dollars, arguing the US currency is needed by the Treasury to honour debts and pay for imports. Since last July there are no new bank savings accounts in dollars in Argentina.

However Governor and presidential hopeful Scioli said that he resolves such "matters" in "appropriate areas," adding that he has certain "differences" with the President, although recognizing that she directs an "ample" following, and that they complement each other nonetheless.

"We generally agree on matters beyond each other's nuances, (which) have been demonstrated throughout these intense ten years," Scioli insisted, suggesting he did not have to "overact" his "loyalty."

The governor stated that "this works as in any team: we are different and complement each other," adding that he told late former President Néstor Kirchner that "close-minded thought is not good."

Scioli also referred to his relationship with Conservative Buenos Aires Mayor Mauricio Macri who President Cristina Fernandez is constantly targeting given his presidential chances.

"We have known each other for many years, and" their "wives are friends," but that it is "clear" that they "belong to different parties."

With regard to the financial situation in his province, the governor said that his administration will attempt to "maximize the optimization of the revenue allocated for spending," but that creating or increasing tax was not an option, because a "maximum" level had already been reached, and such a policy would be detrimental to economic activity and competitiveness.

Scioli, Cordoba governor Jose Manuel de la Sota, Tigre Mayor Sergio Massa and Macri are names seriously considered as potential presidential candidates for 2014. This however collides with ultra-Kirchnerite attempts (allegedly sponsored by CFK) to amend the constitution and have Cristina Fernandez bid for a third consecutive period.

Scioli who was introduced to politics in the early nineties by former president Carlos Menem was several years world champion of offshore powerboat competition until in December 1989 he lost an arm during a race in the Parana River.

Not good at speeches, nevertheless he is more easy going, amicable, tolerates criticism, is open to dialogue and has a more mild attitude towards the opposition, some of the qualities that many Peronist leaders have seen evaporate from President Cristina Fernandez as she becomes increasingly arrogant and almost authoritarian particularly in her party dealings.

He was re-elected governor in the province of Buenos Aires two years ago with sufficient margin to help Cristina Fernandez with her landslide victory and re-election.