New housing project in Stanley anticipating Falklands' oil industry development
Thursday, January 17th 2013 - 08:23 UTC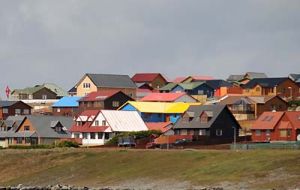 In anticipation of the business opportunities the oil industry will bring to the Falkland Islands, a leading company has plans to build in the capital Stanley 26 two bedroom apartments in the form of an 80 metre long terrace on land were previously there were temporary housing and offices since removed.
The project presented by the Falkland Islands Company, FIC, was finally approved after long discussions by the Islands Planning and Building Committee last week.
The design concept for the terrace is described as a modern interpretation of the traditional 'sou'wester' dwelling seen throughout Stanley. A variety of building colours are shown on the plans.
The Committee was informed that the most likely occupants of this development would be personnel connected with the oil industry.
A recommendation for planning permission to be granted had been made by the Environmental Planning Officer (EPO), subject to standard conditions and others relating to access, drainage, parking and water supply. These would have to be complied with before occupation of the units could be allowed.
In the EPO report to the Committee it was pointed out that the site is currently shown as part of a Policy B1 commercial area, centred on the FIC complex to the north of the site. This policy of the Stanley Town Plan seeks to encourage new shops, offices and customer services in such locations.
However, in December 2011 planning approval was granted to develop the frontage with Fitzroy Road for residential development. The scheme previously approved broadly uses the same footprint for the terrace with similar access and parking layouts but was for only 13 dwellings and did not include the proposed external amenity area.
The Committee had received a lengthy letter of objection to this development from Mr Stephen Clifton, who lives on Fitzroy Road.
Among the grounds cited by Mr Clifton for his objection were that the proposed development of two and three storey buildings was excessive in a relatively old part of the town and completely out of character of the surrounding residential area and would restrict the views of neighbours residing to the south and west.
In answer to some of Mr Clifton's objections, the EPO stated that he believed the proposed use accorded with the predominate use of Fitzroy Road as a residential area, although the site was formerly used for temporary buildings that were not residential in nature.
While she joined with other members in approving the proposal, Member of the Legislative Assembly Jan Cheek expressed reservations about allowing any three-storey building in Stanley, which she felt might be setting a dangerous precedent. (PN).-