EU wooing Latinamerica that is focused on China, now its leading trade partner
Wednesday, January 23rd 2013 - 23:58 UTC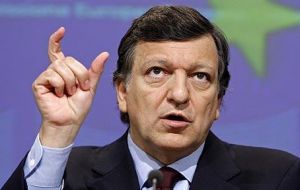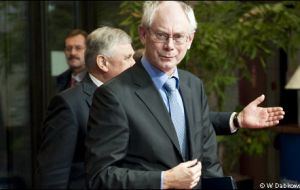 Several European leaders among which the president of the European Council Herman Van Rompuy and the head of EU diplomacy Catherine Ashton are touring several Latinamerican countries with the purpose of strengthening relations with a region in full development but which lately has been increasingly focused on China.

In quite an exceptional context, with Europe overwhelmed by an ongoing debt and confidence crisis and Latinamerica steaming ahead, Van Rompuy and the president of the European Commission Jose Manuel Barroso will also be participating in the round which begins on Thursday, 24 January in Brasilia for the EU/Brazil summit and continues on the weekend in Santiago de Chile when the EU/Celac summit (Community of Latinamerican and Caribbean States).

Brazil the world's sixth economy and the EU ninth trade partner "is a crucial ally of the G20" (group of industrialized nations and emerging economies) and a heavyweight to help the current financial crisis, said an EU diplomatic source.

But Brazil, "a strategic ally" will also help to intermediate and consolidate links with Latinamerica, added the source which recalled that the EU is the region's second trade partner, the main investor in the region and leads in cooperation.

"We believe the role of Brazil will be essential for the agenda at the Celac summit in Chile on January 26/27".

The summit will try to dissipate reciprocal protectionism mistrust which in some cases went as far the World Trade Organization. The EU is anxious to export more manufactured goods to Latinamerica, which at the same time claims greater market access to Europe for its agriculture produce and other commodities.

Uncertainty about the health of Venezuelan president Hugo Chavez, who recently underwent cancer surgery for a fourth time in 18 months, and is convalescent in Havana for over a month will also weight heavily in the agenda.

Over 43 EU and Celac leaders are expected in Santiago in representation of the sixty countries that make up the two blocks, among which German Chancellor Angela Merkel and the Spanish president Mariano Rajoy. Trade and investments will supposedly absorb most of the debates.

According to the European Commission, the EU remains as the main investor in Latinamerican countries with 385 billion Euros in 2010, representing 43% of the region's total.

But in the last decade China has emerged as a formidable competitor and bilateral trade soared from 15 billion dollars to 183 billion in 2010, with an annual growth of 28.4%.
China in effect is the first or second trade partner of most of Latinamerican countries to the detriment of EU and US.