Argentina's industrial production down in 2012, first time in a decade
Friday, January 25th 2013 - 07:43 UTC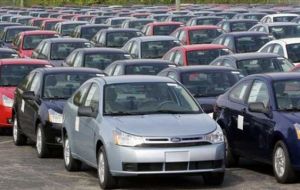 Industrial output dropped 1.2% in 2012 compared to the volume registered in 2011, Indec national statistics bureau reported on Thursday. The Industrial Monthly Estimator (EMI) stated that industrial production dropped 3.4% in December when compared to the same month of 2011
This would be Argentina's industrial production first decline since a political and confidence crisis a decade earlier melted the economy and saw Argentina default on its sovereign debt.
Factory output fell in 2012 due to shrinking automobile and basic metals output as well as weak domestic and external demand, Indec said.
The decade long boom started to cool last year because of sluggish global conditions, high inflation, a drought-hit 2011-12 grain harvest, and the impact of government import and currency controls on investment.
In December, industrial production fell by a larger-than-expected 3.4% from a year earlier. Factory output dipped 0.6% in December compared with November, seasonally adjusted, the government said.
The government said car-making fell 6.6% in 2012 while the production of basic metals, including raw steel and primary aluminium, shed 8.7%. In December, the decline in industrial production was fuelled by a 14.6% drop in basic metals and a 9.5% decrease in construction materials.
The construction industry has been hurt by a virtual ban on dollar purchases that roiled the real estate market, where most transactions were made using the US currency.
In related news Argentina's trade balance ended 2012 with a surplus of 12.69 billion dollars, which is 26.7% higher than in 2011, also according to Indec. Exports totalled 81.2bn dollars, with a drop of 3% while imports reached 68.5bn, down 7%.
In 2011 the trade balance surplus was just over 10 billion dollars with an 11% drop compared to 2010.
The 2012 Budget bill forecasted a trade surplus of 8.6bn dollars with exports reaching 90.8bn dollars and imports, 82.2bn dollars. This year the surplus estimate is 13.33bn dollars with exports expected to climb to 110.7bn dollars.