EU and Brazil agree on a "speedy conclusion" of the trade pact with Mercosur
Friday, January 25th 2013 - 04:10 UTC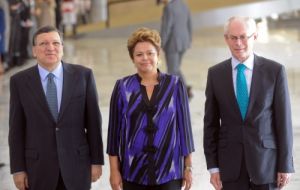 Brazilian and European leaders called on Thursday for the speedy conclusion of a free trade and cooperation agreement between the European Union and Mercosur. The call for action was made as Brazilian President Dilma Rousseff hosted European Council President Herman Van Rompuy and European Commission President Jose Manuel Barroso.

Both the EU and Mercosur "expressed the strong political will to reach an accord," Van Rompuy told reporters.

Negotiations have so far stumbled over differences on agriculture, especially European farm subsidies, which are seen as hindering Mercosur efficient agriculture.

Noting that Europe had seen the worst of the economic crisis but still faced the challenge of reducing high unemployment, Van Rompuy pressed for a "speedy conclusion" of the accord.

"In the next few days we will have a high-level meeting between Mercosur and the EU which we view as strategic" Rousseff said, referring to a ministerial session between the two blocs on the sidelines of a two-day CELAC/EU summit which kicks off in Chile on Saturday.

In this meeting, "we will have the opportunity to work out the first steps of the negotiation," she added, insisting that an agreement was "very important for both regions".

But Rousseff warned that a deal required "rebalancing trade ties" and taking into account "sensitivities on both sides".

The Brazilian leader and the EU officials also agreed on the creation of a commission to look into prospects for boosting bilateral trade and investments, Barroso said.

"The materialization of this deal would be equivalent to more commercial flows, new investments, technology transfers and many other benefits for our citizens and businesses" insisted Barroso.

"Brazil's economic and political evolution in recent years has been extraordinary. With a GDP that amounts to half of South America's and more than 70% of Mercosur, Brazil has become one of the great global economic powers. And the mutual will to build closer relations between us has grown at the same pace," he said.

Last month, Venezuela became the newest full Mercosur member at a summit in Brasilia, while Bolivia took a first step toward joining. With the admission of Venezuela, which boasts the world's largest proven oil reserves, Mercosur is now an energy and agriculture giant with a GDP of 3.3 trillion dollars (83% of South America's total) and 275 million people.

Meanwhile, corporate officials from the two blocs also met and pressed for accelerated talks on a free trade deal between Europe and Mercosur.

In 2007, Brazil and the European Union established a strategic alliance and the two held their last summit in Brussels in 2011. Bilateral trade last year between Brazil and EU reached 96.6bn dollars.

Mercosur is led by its economic giant Brazil but also holds Argentina, Uruguay and Venezuela along with Paraguay, whose membership is currently suspended.