Hedge funds insist in New York court Argentina must pay defaulted bonds
Monday, January 28th 2013 - 06:02 UTC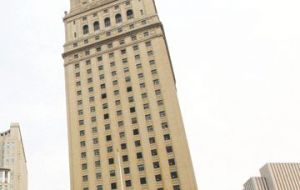 Hedge fund investors who refused to join two sovereign debt restructurings by Argentina urged a US court in New York to force the country to pay them.
These so called "vulture funds," which hold Argentine sovereign bonds that have been in default for a decade, are demanding that the country finally pay the 1.33 billion dollars that a federal judge said they are owed.
The demand came one month ahead of a Feb. 27 showdown before the 2nd US Circuit Court of Appeals in New York.
Argentina is seeking to have the appeals court overturn a finding in favour of the "holdout" creditors, which are led by NML Capital Ltd, part of a firm run by billionaire hedge fund manager Paul Singer, and the Aurelius Capital Management funds.
But in written arguments submitted to the court, Aurelius said Argentina must stop going "far beyond the reach of accountability" by letting holdouts go unpaid for more than a decade even as it pays holders of restructured bonds.
"It is hardly an injustice to have legal rulings which, at long last, mean that Argentina must pay the debts which it owes," Aurelius said, quoting an earlier decision in the case.
The case stems from Argentina's 100 billion dollar debt default in 2002, and has been pursued in US courts because they have jurisdiction under Argentina's bond contracts with investors