HMS Edinburgh leaves the Falklands for the last time
Saturday, February 9th 2013 - 08:41 UTC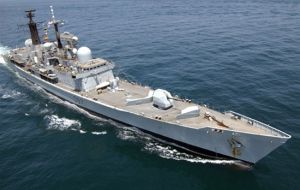 Known as the 'Fortress of the Sea', HMS Edinburgh is the largest and the last Type 42 destroyer to serve in the Royal Navy. She finished her six month tour of the South Atlantic Islands this week and is due to be decommissioned in June, but before heading north again Falkland Islands residents were given the opportunity to have a peek on board.
Open days are held on most tours said Commander Nick Borbone: "They are a good way of showing what the Royal Navy is all about. People who have no contact with the sea don't necessarily see the relevance and applicability of maritime forces so it's a good opportunity to show what we do."
Commander Borbone said he has enjoyed his time in the Falklands. This being his second tour he was particularly glad to see the abundance of wildlife over summer.
"I have more photos of penguins than I know what to do with but my family is looking forward to the slide shows when I return home".
Flight Observer Russ Chandler has had the privilege of viewing the Islands by Lynx helicopter: "We've visited Saunders, Pebble Island and the Neck and luckily get to fly every four days or so. We've been lucky too with the weather and there is a professional photographer on board who has captured some great shots of the wildlife," he said.
MA Sasha Noates, one of the three medics on board, was assigned to HMS Edinburgh only on Tuesday: "The travel is a great part of my job and the Falklands has been a real surprise; I couldn't find the cash machine but Stanley is a lovely town. In the last nine months this is the third place I've been deployed to".
The next ship to tour the South Atlantic will be HMS Argyll, a Type 23 'Duke' Class Frigate. (PN).-