Argentina says three-side dialogue on Falklands/Malvinas issue is unthinkable
Tuesday, February 12th 2013 - 21:05 UTC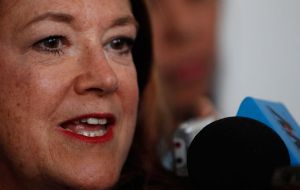 Argentine ambassador in the UK, Alicia Castro described the coming Falkland Islands referendum on March 10/11 as a 'media ruse' and insisted that a three-side dialogue on Malvinas sovereignty is 'unthinkable' because the issue is bilateral: UK/Argentina.

Ambassador Castro in statements published in the Argentine Government House internet news on Tuesday said the referendum is a media stratagem because it is obvious that "the British will vote to continue being British".

She added that another issue of concern is the "militarization of the region", given the massive presence of British forces in the South Atlantic which she said represent a "risk".

The diplomat's statements follow on the recent visit to London of Foreign minister Hector Timerman who met with MPs, and European lobbyists who support the resumption of sovereignty talks between Argentina and the UK on the Malvinas sovereignty, and also reject the coming referendum organized by the Falklands elected government.

"In 1985 the UN told the UK that a referendum of that kind would not be recognized by that body" recalled Ambassador Castro adding that the referendum "has the spirit of a publicity campaign, with no legal effect on the sovereignty dispute".

Finally the ambassador rejected point blank the possibility of having the Falkland Islands representatives in talks on the sovereignty issue. "Trying to incorporate to the dialogue a government from the Islands which is not recognized is unthinkable: dialogue is bilateral, UK and Argentina".

Last week while in London minister Timerman said that the Falklands/Malvinas would be within Argentine control in twenty years and Faklands Governor Nigel Haywood replied that "Islanders will reply to that on referendum day".

On March 10/11 the Falklands are holding a referendum to reply, Yes or No whether they with to remain as a British Overseas territory.

Meanwhile in New York on Tuesday the UN General Assembly released an official document on the Malvinas Islands question adopted by the Ibero-American summit recently held in Cadiz, Spain. The document had been addressed to Secretary General Bank Ki-moon by Argentina's representative Maria Cristina Perceval.

The resolution calls for the resumption of negotiations between Argentina and the UK for a peaceful solution to the sovereignty dispute over the Falklands, South Georgia and South Sandwich Islands and adjoining maritime spaces.

The document from Cadiz underlines the standing determination to dialogue shown by Argentina and called on the UK to abstain from adopting actions which are unilateral modifications of the current situation in the Falklands/Malvinas Islands.

More specifically it refers to the exploration and exploitation of renewable and non renewable resources in which the UK is involved in the area and do not contribute to reaching a definitive solution to the territorial dispute".