South America again attracting migrants looking for jobs and residence
Thursday, March 21st 2013 - 02:22 UTC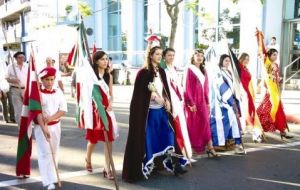 South American countries, as in other times are again attracting migrants looking for work and a place to live, according to a report from the International Organization for Migration, IOM, which states that the US and Canada continue to lead immigrant preferences in the Americas but interest has started to drop.

In effect the complex situations faced by the US and the European Union in so far as jobs are concerned is making migrants to set their eyes in South America where there are "greater opportunities".

Currently the countries which seem most attractive in South America are: Argentina, Venezuela, Brazil, Chile and Uruguay, says an IOM report.

The data from IOM says that from 2000 to 2011, Uruguay received 25.000 foreigners of which 35% were from Argentina, followed by Brazilians and Spaniards, 16% each; Italians, 7% and Peruvians 4%.

However IOM also points out that in the last ten years 700.000 South Americans left their countries in search of new horizons, with Argentina the main recipient with half a million. Paraguayans and Bolivians make up most of that 500.000.

Likewise in that period Chile received 184.464 migrants of which 66% South Americans mostly from Argentina.