Maduro calls on Washington for dialogue, but based on 'respect' and 'no threats'
Wednesday, April 24th 2013 - 06:18 UTC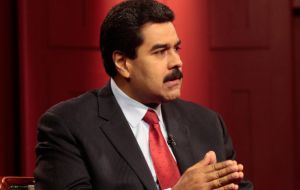 Venezuelan President Nicolas Maduro named a new acting head of its US diplomatic mission in Washington and sent an offer of dialogue after attacking the United States for "interference" in a row over his election.
Disputes between Venezuela and the United States were common during Hugo Chavez's 14-year rule of Venezuela, leaving both nations without ambassadors in each other's capitals.
Maduro, who won an election this month to replace Chavez after his death from cancer, has wavered between reaching out to the US government and condemning its policies in the same uncompromising terms as his predecessor.
In an address on live on TV, Maduro called for "respect" and "dialogue" while naming Calixto Ortega, an ally and member of Venezuela's delegation to the Latin American parliament, to the post of charge d'affaires in Washington.
"We want to have the best ties with all the world's governments, and the US government, but on the basis of respect. There can be no threats," said Maduro.
Last week, Maduro blasted the United States for "brutal" and "vulgar" meddling in supporting opposition calls for a vote recount after the April 14 election.
Maduro won the vote by less than 2%, leaving opposition leader Henrique Capriles fuming at what he said were thousands of irregularities that skewed the result.
"As we don't have ambassadors, we have for a while been considering naming a new charge d'affaires to our embassy in Washington," Maduro said.
"I have decided to name Calixto Ortega so that dialogue with US society may increase, with the universities, the academic world, the social and union world, the Afro-American community, the Latino community, Congress, senators, representatives, the economic, trade and energy sectors."