Quarter of Italians edging the poverty line and most youngsters survive thanks to Mon and Dad
Wednesday, May 22nd 2013 - 18:09 UTC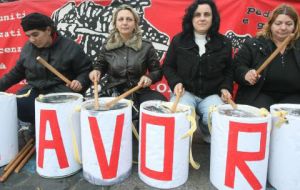 One out of four Italians up to 40 years of age survive with the help of their parents, according to a report on "Youth and the crisis" released this week in Milan. Another report from the Italian national statistics institute (ISTAT) says millions of Italians have or are close to falling below the poverty line.
According to the youth report, 28% of the age group 35 to 40, live off Mon and Dad which jumps to 43% in the 25 to 34 group and 89% for those between the age of 18 and 24. The report also shows that 49% of those looking for a job are prepared to work cleaning the streets or driving a bus or in a call-centre.
Likewise the ISTAT report says that millions of people in Italy can no longer to afford to heat their homes, eat properly or buy meat as they struggle to survive in a nation that has been devastated by the Euro crisis.
Up to a quarter of all of Italy's population, 14.9 million people are living in families that meet three or more of ISTAT poverty indicators. Youth unemployment across the nation is now among the worst in Europe with 23.9% unable to find work, that's one-in three people aged between 15 and 29.
The percentage of people in families who could not afford to eat a protein-based meal such as meat every two days rose to 16.6% in 2012 from 12.4% the previous year and 6.7% in 2010. The report goes on to say that the number of people living in seriously deprived families has doubled in the past two years alone, soaring to 8.6 million, or around 14% of the country's entire population.
The purchasing power of Italians has also seen a huge decline. Last year alone it fell by 4.8%, an 'exceptionally steep' decline caused by the aggressive tax hikes imposed by the government and the EU backed austerity measures that have crippled the economies of Spain, Greece and Portugal.
The report highlights the challenges faced by the new government of Enrico Letta. The new Prime Minister has sworn to boost growth in the country and has called on the wider European Union to tackle the growing crisis in youth unemployment across the region.