Obama and Humala working closely on finalizing the Trans Pacific Partnership
Wednesday, June 12th 2013 - 07:39 UTC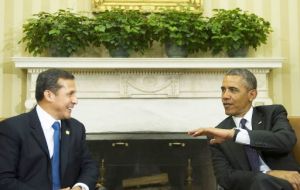 President Barack Obama welcomed Peruvian counterpart Ollanta Humala to the White House on Tuesday, in Washington's latest effort to meet a deadline to seal a Trans-Pacific Partnership trade deal. Humala praised the Obama administration for its open attitude in addressing strategic issues.

"Peru is one of our strongest and most reliable partners in the hemisphere. We have a strong commercial and trading relationship and we cooperate on a wide range of security issues, including our counter-narcotics efforts. And we spent most of our discussion focused on how we can further deepen this important bilateral relationship", said Obama in his welcome to the Peruvian leader.

"For both the United States and Peru, growth is also dependent on our continued expansion in the global marketplace," Obama said.

"That's why I'm very glad that Peru and the United States are working so closely together in finalizing the Trans-Pacific Partnership."

Obama bills the TPP, which would encompass 40% of the global economy, as a "high-standard, high-level trade agreement" uniting the "most dynamic and fastest-growing region of the world."

Delegations from Australia, Brunei, Canada, Chile, Japan, Malaysia, Mexico, New Zealand, Peru, Singapore, the United States and Vietnam hope to conclude the pact before the Asia Pacific Economic Cooperation (APEC) summit in Bali in October.

Peru is also a founding member of the so called Pacific Alliance which also includes Chile, Colombia and Mexico which has a clear pro business and pro-foreign investment and open markets.

Building momentum behind TPP talks was also a central topic of a White House encounter between Obama and Chilean President Sebastian Piñera earlier this month.

Obama said he and Humala talked about how to deepen common efforts to combat trans-national drugs networks through South and Central America. Along with Colombia, Peru is one of the world's top producers of coca and cocaine, and the United States is one of the biggest markets for cocaine cartels.

Humala, who is on his first-ever trip to the United States, as president praised the attitude of the Obama administration and said Peru would continue to fight drugs production in the Western Hemisphere and work to promote trade and human rights.

"We have found in your administration an open environment in which we can build on all the strategic areas so as to strengthen our bonds. I am convinced that under your administration we will substantively and qualitatively fight against the scourge of drugs", said Humala.

"Peru is an important trade partner with the United States. We provide economic growth. We have economic trust. We also provide a legal stability," Humala said.

The Peruvian president also emphasized talks on other issues. "We have also discussed about education, training, science, technology, and strengthening the capacities of our young population. We wish to move forward on exchange programs and scholarships not only with the United States, but also with the states of the union, so that way we can provide young people more opportunities".

Besides Obama, Humala is scheduled to meet with Vice President Joe Biden and Secretary of Defense Chuck Hagel.

Obama has stepped up the pace of engagement with Western Hemisphere nations since beginning his second term in January, and recently returned from a trip to Mexico and Costa Rica where he met regional leaders.

Biden just completed a six-day tour that included visits to Brazil, Colombia and Trinidad and Tobago.