Kirchnerite candidates in four main districts ahead of mid term election trail behind
Friday, July 19th 2013 - 06:34 UTC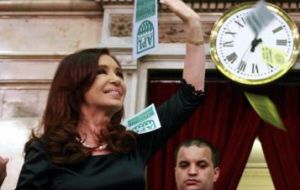 The latest round of public opinion polls for the coming mid term elections next October in Argentina don't fare well for President Cristina Fernandez particularly in the country's four main electoral circumscriptions, Buenos Aires province, Buenos Aires City, Santa Fe and Cordoba.

In the province of Buenos Aires, which is decisive for any Argentine election since it represents 35% of the electorate, a dissident candidate from the ruling coalition Sergio Massa, is well ahead of the Cristina Fernandez sponsored hopeful; likewise in the city of Buenos Aires where the opposition is set to consolidate, and in Santa Fe and Cordoba the local leaders feel no pressure from the Kirchnerite candidates.

Next August and according to Argentine law political parties will be holding open, obligatory and simultaneous primaries to nominate candidates for the October mid term election when half the Lower House (127) and a third of the Senate (24) is in dispute.

If President Cristina Fernandez, or her acolytes, want her to bid again for the presidency she must have a clear majority in congress to amend the constitution, but the reading from the opinion polls is that currently, four months away, even her current greater number of lawmakers is in dispute.

According to pollsters Management & Fit, Tigre Mayor Sergio Massa leads by at least ten points over his Kirchnerite runner up, 35.1% to 25%, and other opposition candidates are closing in with 16.2% and 13.9%. The province of Buenos Aires will be choosing 35 members of the Lower House.

In the City of Buenos Aires controlled by conservative Mayor Mauricio Macri, his Senate candidate, Gabriela Michetti already has a 47.4% support, at least twenty points ahead of Kirchnerirte Daniel Filmus who wants to repeat. Other non-Kirchnerite options are also moving in to dispute the remaining half.

Candidates for the Lower House in the City of Buenos Aires are non-Kirchnerites and Cristina Fernandez sponsored hopeful stands with 15% support.

The situation is not different for the government in two other crucial circuits; Cordoba and Santa Fe. In Cordoba the leader Juan Schiaretti has the support from Governor Jose Manuel de la Sota and a vote intention in the range of 28%. The Kirchnerite figures in position three.

Finally in Santa Fe the turf of Socialist Hermes Binner, his candidate is comfortably ahead in coalition with another opposition party, and has a vote intention of 52%. The Kirchnerite candidate ranks third when not fourth.

In the October mid term elections, 24 Senate seats and half the Lower House will be in dispute. The province of Buenos Aires is renewing 35 Lower House members; in the City of Buenos Aires, three Senators and 13 Deputies; Santa Fe and Cordoba, 9 Lower House seats each. The four districts are choosing 66 Deputies and 3 Senators.