Ecuador's Correa pondering whether to join Mercosur or the Pacific Alliance
Wednesday, July 31st 2013 - 06:09 UTC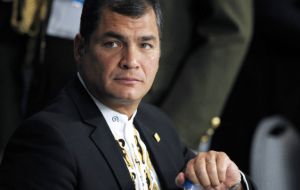 President Rafael Correa said that the determining factor for Ecuador to join as full member of Mercosur or the Alliance of the Pacific is the 'flexibility' granted in certain admission conditions, taking into account the fact that Ecuador does not have a national currency.
Regarding the Alliance of the Pacific, (Chile, Peru, Colombia and Mexico), and which Brazil and Argentina do not accept as an option for Mercosur, Correa said that they are 'good friends of Ecuador' and if they have 'proposals that go beyond a free market', and "if there is consideration for a country as Ecuador, which does not have a national currency, we can assess the possibility of joining the block".
But 'if it is only a free market, open economy and all that stuff, we will never join such a block" emphasized Correa.
The Pacific Alliance is expected to have a fifth member by the end of the year, Costa Rica, while Uruguay and Paraguay have been accepted as observers. Both countries have plans to join the alliance but are limited by their Mercosur commitments.
Likewise with Mercosur, said Correa to which Ecuador belongs with an observer statues, but to which it has requested incorporation as full members, as long as certain conditions are contemplated.
Ecuador since the financial and banking crisis of 2000 dropped the national currency Sucre, for the US dollar.
"Mercosur must be flexible in certain conditions since I repeat we do not have a national currency and this is not irrelevant", underlined Correa who then recalled that many of the problems the European Union is undergoing is "because they do not have a national currency, thus they don't have the tools to quickly overcome the ongoing crisis".
But nevertheless in Mercosur there are many political coincidences, 'countries with coinciding policies and with an overall scepticism regarding free trade"
Further on Correa said that regional integration must not be limited to mercantilism and free trade and suggested that the Andean Community of Nations, CAN and Mercosur should converge to the Union of South American Nations, Unasur.
"That it the right convergence for CAN and Mercosur to Unasur since besides trade, it includes integration in energy, finance, banking, common policies" said Correa.
'It's senseless for Latinamerican countries to compete among themselves: they need to harmonize social, labour, defence, energy, finance and taxing policies to better integrate".
Correa said CAN is almost dead, seriously injured not only because Venezuela left the group (to join Mercosur) but two of its remaining four members have signed free trade agreements with the United States, "which is against CAN rules".
Finally Correa said individualism was the essence of capitalism, but it destroys the collective and the collective without results destroys societies, and for this we must understand that the people have to be above capital, and in Ecuador and much of Latinamerica, "that is what is happening!"