Protests and pot banging against Cristina Fernandez administration in Buenos Aires
Friday, August 9th 2013 - 04:54 UTC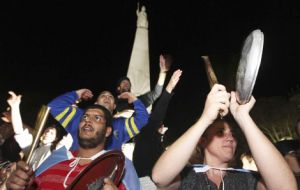 Protesters gathered around Buenos Aires obelisk and other neighbourhoods of Buenos Aires City to participate in a new protest against the administration of Argentine president Cristina Fernández, forty eight hours ahead of primary elections.

"An end to corruption", "enough of lies and insecurity" were some of the banners carried by protestors who also shouted out names of President Cristina Fernandez administration officials allegedly involved in rampant corruption cases.

For the occasion, civil and political groups installed a big screen in front of the Colon Theatre in downtown Buenos Aires, while carrying signs criticizing Vice President Amado Boudou and Fernández de Kirchner son, Máximo, head of a youth militants group 'La Campora' allegedly financed by the government.

The concentration was not as numerous as that of last 18 April when hundreds of thousands turned out in Argentina's main cities and towns for a similar protest.

This time however there was some controversy because of the two day mourning decreed to honour the victims of a building that collapsed, following a major gas leak, killing at least 13 and injuring dozens, while special rescue teams search among the rubble for the missing.

But organizers of '8A' said they would go ahead anyway, because it's a couple of days ahead of Sunday's primary mandatory elections to decide on candidates for the coming October mid-term elections when half the lower house (127) and a third of the Senate seats (24) will be renewed.

As in previous occasions the concentration with banners and pot-banging were organized spontaneously through the social networks with no intervention of political parties and with a very clear instruction: strictly a-political.

Mariana Torres who identified herself as one of the organizers admitted the march attracted less people than in previous occasions, but "the complaints are the same from other protests: corruption, insecurity, lies and inflation".

When asked about the possibility of cancelling the marches, after the Rosario tragedy where 13 people died, she said: "We decided to continue because the Government tried to make a political use of the tragedy, and even people from Rosario told us to carry on".

But most political parties and movements that are participating on Sunday's primaries decided to suspend their campaign closing rallies on Thursday evening to abide the national mourning.

Nevertheless it must be added that contrary to last April when people by the thousands turned out in major cities and towns, this time it was concentrated in Buenos Aires City and some metropolitan areas. Buenos Aires City traditionally has been a stronghold of the opposition to the hegemonic Peronist movement that has dominated Argentine politics for the last six decades.