Argentina July inflation 2.55% and 24.9% in twelve months, says congressional index
Thursday, August 15th 2013 - 03:37 UTC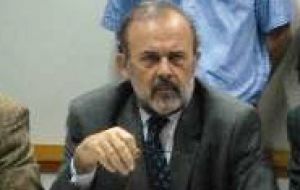 Argentina's inflation according to the 'congressional index' reached 2.55% in July and 24.9% in the last twelve months was announced on Wednesday by members from the opposition in the Lower House.

July was the second highest index of the year after January (2.58%) and this was attributed to holiday expenses (winter vacations in Argentina) and the partial end of a prices agreement reached by the government of President Cristina Fernandez with the main supermarket chains.

The prices full agreement helped to keep inflation in the range of 1.23% and 1.57% between February and May, but in June it had already climbed to 1.93%.

The so called 'congressional index' which is an average of private consultants' estimates threatened with fines and court actions by the government if they release publicly their estimates is estimated will have a monthly floor of 2% for the second half of the year.

The congressional index is usually released before the official Indec stats office consumer prices index that so far this year, month after month has been on average half the private sector's estimate.

In January Indec was 1.10% and the congressional estimate, 2.58%; February, 0.50% and 1.23%; March, 0.70% and 1.54%; April, 0.70% and 1.52%; May, 0.70% and 1.57% and June 0.80% and 1.93%.

On making the presentation in Congress opposition lawmakers pointed out that in Argentina "prices travel on a lift and salaries and social programs have to climb stairs".

"Despite price controls and imports' restrictions, inflation remains unchanged at two digits", claimed lawmaker Patricia Bullrich, adding that the congressional index reflects the truth and "helped public opinion realize that on lies you can't build a consensus or a country".

"Inflation in June and July gobbled 20% of social programs such as family allowances and at this rate by the end of the year it will have devoured 50%", claimed lawmaker Eduardo Amadeo.

Conservative Pablo Tonelli pointed to the fact that the price of milk so far this year had increased 43.8% and Cornelia Schmidt-Liermann described current inflation as 'obscene' calling on President Cristina Fernandez "to re-think her economic policies".

The official Indec stats office index is expected later in the week.