UK reaffirms support for Gibraltar; Picardo meets with PM Cameron and Hague
Wednesday, August 28th 2013 - 14:22 UTC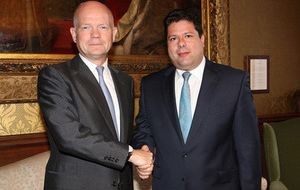 British Prime Minister David Cameron office has highlighted the significance of Chief Minister Fabian Picardo's visit to No 10 Downing Street as an indication of the relationship and support of UK for Gibraltar.

"The visit of Chief Minister Fabian Picardo to London reflects the strength of the bonds between the UK and Gibraltar, and our commitment to stand by the people of Gibraltar. The Prime Minister, Foreign Secretary and the Chief Minister will be discussing a range of issues, including our concerns about the delays at the Spain / Gibraltar border" a senior Downing Street press officer was quoted by the Gibraltar Chronicle.

Gibraltar said these meetings will enable Chief Minister Picardo to discuss with both PM David Cameron and Foreign Secretary William Hague a number of important matters, in particular the current abuses by the Spanish authorities at the Gibraltar frontier and the statements from senior Spanish politicians threatening further measures against Gibraltar.

Meanwhile in Spain Foreign minister Jose Garcia Margallo is setting up an anti-Gibraltar 'pow-wow' according to reports by the right wing newspaper ABC over the weekend. The inter-ministerial focus group will examine Gibraltar issues which Madrid wants to put pressure on, such as Gibraltar's bunkering industry.

The group is also expected to get involved in a diplomatic campaign, not unlike that pursued by Argentina on the Falklands' sovereignty dispute, including lobbying in United Nations to seek growing international pressure on UK over the Rock. This comes ahead of Garcia Margallo's appearance before the Spanish parliament to make a statement on Gibraltar.