Argentina presents book on the Malvinas Question and the international community
Monday, June 9th 2014 - 20:19 UTC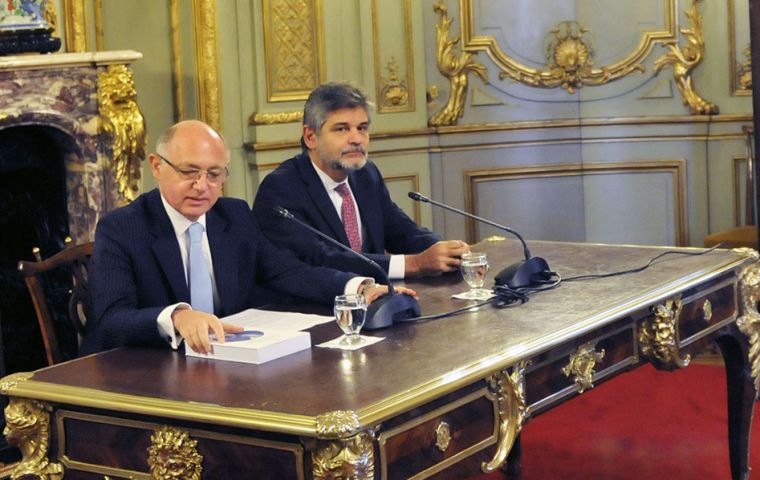 A book with a collection of documents and historic background under the heading of "The International Community and the Malvinas Question", both in English and Spanish was presented on Monday by Argentine Foreign minister Hector Timerman and top officials from his office.
The book refers to the sovereignty dispute with Britain over the Falklands/Malvinas, South Georgia and South Sandwich Islands and surrounding maritime spaces, and includes declarations from the international community supporting Argentina as well all the resolutions from regional forums calling for a dialogue with the UK to reach a peaceful solution on the dispute.
Sitting next to Timerman during the presentation were the Secretary and Deputy Secretary of issues relatives to Malvinas Islands, Daniel Filmus and Javier Figueroa, while the ceremony was attended by Senators, Deputies, ambassadors and representatives from academia and universities.
In the prologue, Timerman says that the book reflects "the solidity, clarity and conviction of the international community perception in their genuine aspiration that the dispute must be solved peacefully as indicated by the UN and can thus overcome the persistent refusal of the UK to resume the bilateral dialogue".
"The following pages compile over forty of the international community's pronouncements and more than a hundred statements from regional forums supporting the Argentine Republic in the Question of the Malvinas Islands. Their soundness, clarity and substance reflect the international community's perception in its genuine aspiration for the dispute to be resolved peacefully as indicated by the United Nations and for the United Kingdom's persistent refusal to resume bilateral dialogue to be overcome.
The following compilation of documents is also a concrete display of the far-reaching solidarity shown by this community of nations in the face of the subsistence of this colonial anachronism in the South Atlantic well into the 21st century. On its part, encouraged by growing international support, the Argentine Nation, through all the Governments of all political persuasions, will continue to express its willingness to negotiate as a true, firm and unrenounceable State policy, until a definitive solution to this sovereignty dispute is found once and for all", concludes Timerman.
Monday's ceremony at the Palacio San Martin in Buenos Aires was the official presentation in Argentina of the book, since copies of "The international community ant the Malvinas question" were distributed last week among all the delegations and observers attending the OAS assembly in Asunción, Paraguay.
- "The International Community and the Malvinas Question"