UK universities representative visits Chile to foster closer relations
Wednesday, February 4th 2015 - 09:23 UTC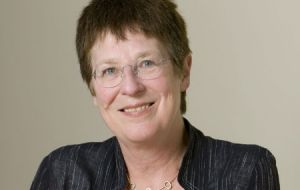 University of Kent Vice-Chancellor Professor Dame Julia Goodfellow visited Chile from 1 to 3 February 2015. Dame Julia, who is also the incoming President of Universities UK, the body representing all UK Universities, had discussions with senior Chilean officials, including the Deputy Minister of Education, Valentina Quiroga.

She also spoke at a dinner hosted by the British Ambassador, Fiona Clouder, on the subject of Research Excellence and Economic Impact, in which she underlined the ways in which universities can foster economic development and the particular value of international exchanges.

The visit to Santiago was part of a wider program of global engagement as part of the University's 50th Anniversary celebrations. This is designed to showcase Kent's particular strengths and successes, including its ranking as a top 20 research institution in the UK following the government's recent Research Excellence Framework (REF).

It also serves to highlight Kent's growing reputation as an international strategic and research partner, and the opportunities it can both provide and create as the 'UK's European university'.

"I am delighted to be visiting the beautiful city of Santiago. As the Vice-Chancellor of a research intensive university with a strong international profile, I believe we are well placed to develop new and exciting partnerships and to strengthen existing collaborations", said Dame Julia about her visit.