Petrobras sets record for exploratory drilling in water depth of 3.000 meters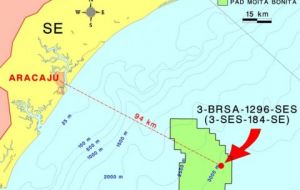 Petrobras has set a new Brazilian record for exploratory drilling by reaching a water depth of nearly 3,000 meters, the state-controlled oil giant said. The 3-BRSA-1296-SES well was drilled to a water depth of 2,988 meters - eight meters more than the 3-SES-184 well Petrobras drilled in February in that same basin - and a total depth of 6,060 meters.

Only six wells in the world exceed the depth of 3-BRSA-1296-SES, three of which were drilled by India's Oil and Natural Gas Corporation in that South Asian nation and three by U.S. energy companies Murphy Oil and Chevron Corp. in the U.S. Gulf of Mexico, Petrobras said.

The Rio de Janeiro-based company, a world leader in deep-water drilling technology, said it accounts for nearly 30% of the world's 50 deepest wells. Brazil extracts more than 90% of its oil from offshore fields.

Both 3-BRSA-1296-SES and 3-SES-184 were drilled in the Moita Bonita offshore development area, located in the Sergipe Alagoas basin off northeastern Brazil. That area was discovered in August 2012 some 94 kilometers off the coast of Aracaju, capital of Sergipe state.

Petrobras has a 100% stake in the SEAL-M-499 block where the record-setting well was drilled. In announcing the conclusion of drilling of that third well in Moita Bonita, the company said test results confirmed the presence of light oil and good reservoir porosity and permeability conditions.

The deep-water discoveries in Sergipe-Alagoas constitute a new oil frontier in Brazil with very promising reserves, Petrobras said.