Temer names a woman to head Brazil's giant development bank, BNDES
Tuesday, May 17th 2016 - 07:25 UTC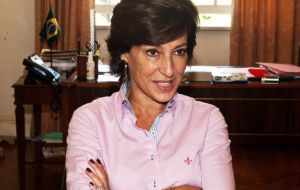 Brazil's interim President Michel Temer will replace the head of the government's giant development bank with a female economist, following heavy criticism over his appointment of an all-male white cabinet.

Maria Silvia Bastos Marques, a career bureaucrat and onetime steel executive who most recently worked on Rio de Janeiro's Olympics preparations, will replace departing Chief Executive Luciano Coutinho at the bank, known as BNDES, a government spokesman said Monday.

The appointment comes as Mr. Temer moves to fill dozens of government posts.

Following the ouster of Dilma Rousseff, Brazil's first female president, the task of doling out high-level jobs to political allies took a controversial turn last week when Temer named 23 men—and no women—to his cabinet. In a country where more than half the population is racially mixed, the appointments drew further condemnation for going almost entirely to officials of European descent.

"At a time when the new government is trying to build bridges and establish proximity with the public, that image of a government formed only by men distances Temer's administration from the noble values shared by most of Brazilian society," said Daniel Vargas, a law professor at the Getulio Vargas Foundation in Rio.

For the BNDES, Ms. Marques' appointment likely heralds a downsized role after 13 years of Workers' Party rule during which the bank became one of the government's preferred tools for pursuing its economic goals.

The BNDES's annual disbursements increased nearly six times over between 2003 and their peak in 2013 as the bank financed massive—and sometimes ill-fated—projects and acquisitions by Brazil's largest firms. In an economy racked by high interest rates in the private sector, the BNDES's subsidized lending fueled everything from hydroelectric dams in the Amazon to sprawling oil refineries in Brazil's impoverished northeast.

Even after a 28% drop last year, the BNDES's total disbursements of 135.94 billion Brazilian reais (about $38.84 billion) were roughly double those of the World Bank.

The development bank hasn't been spared criticism for its part in Brazil's twin political and economic crises.

A continuing corruption investigation has uncovered evidence of rampant graft in many of the projects that the BNDES financed in recent years. Some of the investments, particularly in Brazil's troubled energy sector, went sour. Rousseff's foes questioned the purpose of loans the bank made outside Brazil, particularly to the Workers' Party's ideological allies in Cuba and Venezuela.

And even Ms. Rousseff's impeachment trial focuses on accusations that she used money from the BNDES and other state-controlled banks to mask the government's widening fiscal deficit.