Bachelet promised to submit a proposal to Congress which seeks to create a ministry for Indigenous people.
Sunday, June 25th 2017 - 12:57 UTC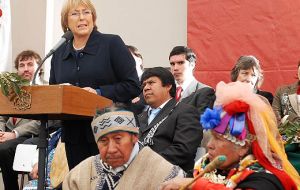 On Friday, Chilean President Michelle Bachelet extended a formal apology to the Mapuche people for "errors and horrors" perpetrated by the state against their communities. She announced plans to concede more power and resources to the Indigenous group.

Speaking from La Moneda presidential palace in the capital city of Santiago, Bachelet conceded that "we've failed as a country."

"I want, solemnly and with humility, to ask forgiveness from the Mapuche people for the errors and horrors committed or tolerated by the state in our relation with them and their communities," she added.

Reuters reported that amid rising tension between the Mapuche and loggers and farmers in the south-central provinces of the country, Bachelet promised to submit a project to Congress which would create a ministry for Indigenous people.

She also announced that resources would be allocated to build roads and to provide safe drinking water in remote regions where Mapuche communities are located. The program would also implement a plan of ancestral land transferal back to the Indigenous group.

An Indigenous group located on both sides of the Andes in southern Chile and western Argentina, the Mapuche successfully fought resistance wars against Spanish invaders ever since their arrival in the 1500s. Writing for CounterPunch, John Severino noted that "unlike their hierarchical neighbors, the Inca, the Mapuche organized horizontally, and their capacity for self-defense was so renowned that Wallmapu (Mapuche's historical territory) became known to Europeans as 'The Spanish Graveyard.'"

Spanish colonizers in Chile and Spain weren't able to conquer Wallmapu until the 1880s. Since then, through waves of invasion and dispossession, the Mapuche have struggled tirelessly to preserve their language, culture, religion, food and medicinal knowledge.

The Chilean state and privately-owned companies have historically robbed the Mapuche of their ancestral land, natural resources, and, in the process, committed heinous crimes against the them. The result of centuries of colonization has caused the Mapuche community to be among the poorest people in Chile.

Over the past few years, according to Reuters, increased acts of arson against logging companies and other firms rooted in resource extraction have been attributed to the Mapuche.