Latin American foreign ministers will address Venezuelan situation in Peru
Tuesday, August 8th 2017 - 07:49 UTC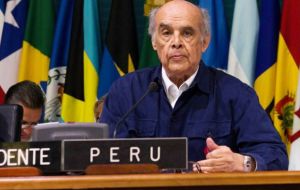 Latin American foreign ministers are scheduled to hold an extraordinary meeting this Tuesday in Lima to address the current state of affairs in Venezuela, Peruvian foreign minister Ricardo Luna announced.

"Foreign ministers of the four countries of the Pacific Alliance (Chile, Colombia, Mexico and Peru) and three member states of Mercosur, namely Argentina, Brazil and Paraguay will attend the meeting. Uruguay will possibly come. Costa Rica, Guatemala, Honduras, Canada, Jamaica, Saint Lucia and Barbados, will come as well, for a total of 14 countries," Luna told reporters.

In Luna's words, the foreign ministers will assess recent events in Venezuela in the aftermath of the election and inauguration of the National Constituent Assembly.

"We will probably issue a statement stressing the need to reverse and dismantle the Constituent Assembly and restore the authority of the National Assembly." He added that the foreign ministers plan to become "a tracking mechanism."

A wave of anti-government demonstrations has shaken off Venezuela in the past four months, with a death toll of 130, and hundreds of detainees. It is estimated that the regime of president Nicolás Maduro, with support from the armed forces, is holding some 600 political prisoners, plus dominating the Judiciary, the Electoral Tribunal, and is anticipated will close down the legislative.