Theresa May "make Brexit work" speech: a two-year transition period post 2019 and 40bn Pounds
Friday, September 22nd 2017 - 12:00 UTC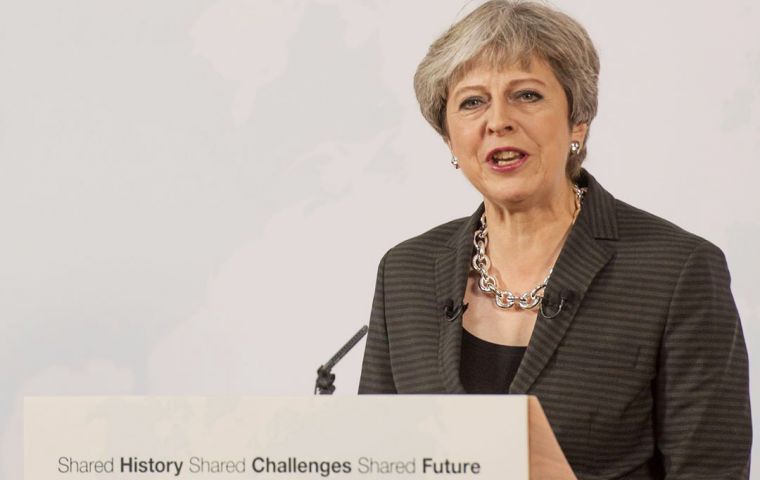 Theresa May will tell EU leaders there is a shared responsibility to make Brexit work "smoothly" as she attempts to break the deadlock in negotiations. In a major speech in Florence on Friday, she will say history will judge Brexit "not for the differences we faced, but for the vision we showed".
Apparently the UK Prime Minister will propose a two-year transitional deal, after March 2019, ahead of a permanent trade deal. It could include payments worth 20bn Euros over the two years.
According to pre-released excerpts from her speech, the prime minister will say that a successful final agreement is in the interests of both the UK and the remaining EU countries.
"If we can do that, then when this chapter of our European history is written, it will be remembered not for the differences we faced, but for the vision we showed; not for the challenges we endured but for the creativity we used to overcome them; not for a relationship that ended but a new partnership that began."
She is expected to say, if the UK and EU can be "imaginative and creative" about establishing a new relationship, both sides can be "optimistic about the future".
Mrs. May will argue that it is "in all of our interests for our negotiations to succeed… so I believe we share a profound sense of responsibility to make this change work smoothly and sensibly, not just for people today but for the next generation who will inherit the world we leave them".
According to London media the prime minister will make what has been described as an "open and generous" offer, potentially worth 20bn Euros over the two years - which could plug a black hole in the current EU budget, which runs to 2020 - created by the UK's departure.
Mrs May briefed her top team at a marathon two and a half hour cabinet meeting in Downing Street on Thursday on what she will say in Florence.
A government source said that the intention was to make the potential payments conditional on continued access to the single market and some form of customs union which allowed the UK to strike its own trade deals during the transition period.
In a speech to the Italian parliament on Thursday, the EU's chief Brexit negotiator Michel Barnier said that striking a deal with the UK was "in our common interest" but he was awaiting "clear commitments" from the UK on the issue of guaranteeing EU citizens' rights, on the financial settlement and on the Northern Ireland border.
Without those issues being resolved in a withdrawal agreement, there would be no transition deal, he said. The fourth round of Brexit negotiations begins on 25 September, with the UK due to leave the EU in March 2019.
22.09.2017 Update Mrs. May speech