Bolivian government airline takes off in stormy atmosphere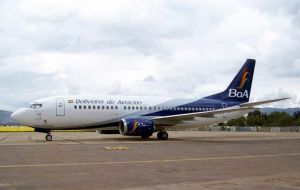 Bolivian government owned air carrier Boliviana de Aviación (BoA) took off last weekend with a first flight La Paz-Cochabamaba and 40 passengers, including President Evo Morales. However private operators are claiming the airline begins with a significant deficit and doubt it will be able to break even.

BoA has scheduled six La Paz-Santa Cruz-Cochabamba flights daily, with one of its two stable, high technology Boeing 737-300 planes. The two aircrafts have undergone international screening and updating in Panama, said BoA operation manager Juan Carlos Escobar.

Following the inaugural flight, President Evo Morales said he was confident BoA would offer a quality service, and on schedule, helping to integrate the country and to break the current monopoly in the sector offering affordable air fares.

The company currently has the lowest fares in the Bolivian market, with special discounts for the elderly, university students, family trips and delegations.

BoA general manager Ronald Caso said he was confident the company would turn a profit in a couple of years and revealed that by 2010 the company would have five aircrafts to cover domestic flights.

"We simply want to share with good fares, 10% cheaper, and service the one million passenger domestic market", he added. Currently six airlines are authorized to fly domestically in Bolivia.

However Carlos Meyer from AeroSur, Bolivia's main private commercial airline said the company would present a revoke demand against Boliviana "because there is no unsatisfied demand in the market".

And if the Aeronautics Agency rejects the petition, "we will go to the Supreme Court". There's no room for another airline (much less with the government supporting her with tax breaks and soft loans), underlined Meyer.

"Last year passenger demand was 1.1 million pax and the airlines offered 1.9 millions seats. There is not such thing as unsatisfied demand and market grows below 5% annually plus the fact we don't know if the economy will expand this year", complained Meyer.