Saturday,
June
27th
2009
- 10:12 UTC
Spain approves 9 billion Euro support fund for banking system
The Spanish cabinet approved Friday a 9 billion Euro (12.7 billion US dollars) fund to help revive the financial sector by buying stakes in banks hit by the global crisis and get them lending again.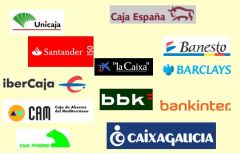 "We have to guarantee the role of banks, which is to collect deposits and extend credit," said Finance Minister Elena Salgado after the government's weekly cabinet meeting which approved the Fund for Ordered Bank Restructuring.
She said the fund, which could be expanded to 27 billion Euros this year, is made up of public money and other existing bank support funds. It will be used to help banks in difficulty, particularly regional savings banks, by buying stakes in them and helping them merge or restructure.
Spanish banks got off relatively lightly from the sub-prime crisis last year. But some, especially smaller saving banks, were badly exposed to the collapse of the country's property market, which led to higher bad debt ratios and liquidity problems.
"Although the Spanish banking sector has proved it is solvent, in this climate of international economic crisis some financial entities could have difficulties over the coming months" Deputy Prime Minister Maria Teresa Fernandez de la Vega said on Friday after a government meeting.
Spain entered its first recession for 15 years at the end of 2008 as the global credit crunch worsened a correction which was already underway in its once booming housing sector.
Early this month the government said it expected the economy to contract 3.6% this year, up from the 1.6% forecast previously, with double digit unemployment remaining very high for several years.
Salgado said the fund would have members named by the central Bank of Spain, which would play a key role in overseeing its operations. Its creation requires the approval of parliament.
So far Spain has stepped in to rescue just one of its banks in the current crisis. In March it placed the regional Caja de Ahorros Castilla La Mancha under special administration.
International ratings agency Moody's Investors Service said this month it had downgraded 25 Spanish banks but maintained its position on the country's two largest -- Banco Santander and BBVA.
Moody's said the downgrades were modest because of the Spanish government's oversight and support for the banking system which has meant that the banks have avoided the massive losses of their peers elsewhere.