China's reserves reach 2.273 trillion USD, including 800 billion US bonds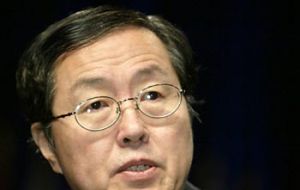 China's foreign-exchange reserves, the world's biggest, climbed about 141 billion US dollars in the third quarter to a record 2.273 trillion USD, the People's Bank of China said Wednesday on its Web site.

Wu Zhigang senior economist with China Development Bank said the foreign currency reserve may actually continue to grow over the coming months if there are no major shocks to the economy.

Lu Zhengwei, a senior economist from the Industrial Bank had anticipated that China's third quarter foreign currency reserves would show a large increase. However the 141 billion was less than the unprecedented 178 billion USD gain in the second quarter.

The dollar's decline this year has boosted China's reserves by increasing the value of holdings of euro and yen assets. A trade surplus added 15.7 billion to the holdings in August and direct investment from abroad contributed 7.5 billion.

Bigger reserves may sustain China's demand for Treasuries, helping the Obama administration to make record debt sales to fund stimulus spending to revive economic growth.

Globally, central banks have been putting more reserves into Euros and Yen as the dollar slides. Nations reporting breakdowns put 63% of new cash into the European and Japanese currencies in April, May and June, according to Barclays Capital. China doesn't give such details.

China, which held 800.5 billion USD of Treasuries at the end of July, up 45% from a year earlier, has expressed concern this year at the safety of the nation's dollar assets, with central bank Governor Zhou Xiaochuan promoting the idea of a new world currency.

The size of the nation's reserves makes it difficult for China to move away from Treasuries, with about 65% of the reserves held in dollars, according to UBS AG.

"China will continue increasing its purchases of Treasuries unless its foreign-exchange reserves decline, which isn't going to happen soon," said Kevin Lai, an economist at Daiwa Institute of Research in Hong Kong.

China's interest in diversifying its reserves was underscored by central bank Deputy Governor Hu Xiaolian's call on September 23 for a multinational sovereign wealth fund to invest in developing nations. Such a fund would give countries with excess foreign- exchange reserves more options to invest in the emerging world rather than in the US.