"Lack of political stability" weighs on Argentina's credit ratings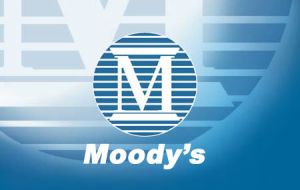 Contentious politics and a lack of political stability are the main factors weighing on the outlook for Argentina's credit ratings, Moody's Investors Services said on Thursday.

"Argentina's inability to solve its political differences is a problem ... Contentious politics make the country less able to cope with the impact of economic shocks," Gabriel Torres, a senior analyst for Moody's said at a conference in Buenos Aires.

Moody's currently rates Argentine sovereign debt B3, one of the lowest among emerging-market countries. Still, the overall the outlook for the country "is more toward positive than negative at this time," Torres said.

He added that a resolution for Argentina's defaulted debt with the so-called holdouts -- holders of an estimated 20 billion US dollars in sovereign bonds who did not participate in a government's exchange in 2005 -- would be a positive and could contribute for a future review of the country's ratings status.

Argentina hopes to reach an agreement with the holdouts and clear the way to issue new debt nearly eight years after the country's 100 billion USD default.

Argentina's economic fundamentals are good, Torres said, and he expects Latinamerica's third largest economy to expand between 2 and 3% in 2010.

Argentina's GDP and fiscal situation deteriorated in 2009 mainly as the result of the global economic slowdown, according to Moody's. But the worsening of fiscal accounts is still not a major concern and will not immediately impact the country's ability to service outstanding debt, Torres said.

Before the country returns to markets it will also have to address the lack of credibility of some of the country's economic data, such as inflation figures released by the INDEC national statistics agency. Most analysts accuse the administration of President Cristina Kirchner of underreporting true inflation, which they say is running at about 15% on the year while government put the rate at 6.5% for October.

"It's very important (for Argentina) to issue trustworthy numbers," he said. "If the government makes progress on both fronts, the holdouts and the INDEC, it would certainly help.

Fitch Ratings also said Argentina's credit ratings are likely to remain in highly speculative territory even if the 20 billion USD debt exchange is executed successfully. The credit rating agency pointed out to the country's continuing economic and financial pressures as well as high debt ratios.

Even if the exchange is successful, said Casey Reckham, Fitch associate director, "investor concerns about transparency of official data and coherence of economic policies could limit Argentina's ability to access external-funding sources".

Fitch currently has Argentina at restrictive default and said the country's debt ratios are higher than those currently rated just above highly speculative.

In related news Argentina's general activity index in October posted a 3.1% decline on the year, but inched up 0.4% from a month earlier, according to local think tank Orlando J Ferreres & Asociados (OJF). The October drop brought the January-through-October decline in OJF's index to 5.3%.

Starting November 2008 as the international financial crisis set in, general activity in the country fell sharply. In October, industrial manufacturing was down 6.9% on the year, which marked a deceleration in the declines posted so far this year, OJF said. Trade also began to show signs of a recovery, but was still down 4.8% on the year.