Brazil and Japan allege over 100 countries support UN Security Council reform
Friday, July 1st 2011 - 01:48 UTC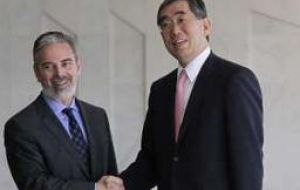 Foreign Affairs ministers from Brazil and Japan announced that over 100 nations have expressed support for a proposal to expand the United Nations Security Council.

Brazilian Foreign Minister Antonio Patriota said on Thursday that a reform proposal making the rounds at the UN shows a desire for change at the world body. However he did not detail how the change would take place.

Japan and Brazil are working with Germany and India for all four to get permanent seats on the Security Council, joining the US, China, Russia, Britain and France.

There is widespread agreement at the UN that the council should be reformed. But the 192-member General Assembly has been unable for three decades to agree on how to implement the changes.

Patriota met with Japan's Foreign minister Takeaki Matsumoto in Brasilia. The Japanese official is on a five-day trip to Paraguay and Brazil and earlier this week he attended the Mercosur summit in Asunción.

Matsumoto in Paraguay said Japan was interested in "strengthening relations with Mercosur", a trade block which he described with a bigger economy than that of Asean members, (Association of Southeast Asian Nations).

"We want to establish an economic dialogue with Mercosur country members and study the possibility of a trade agreement, which has been requested by business communities of Japan and Mercosur countries", said Matsumoto.